Amber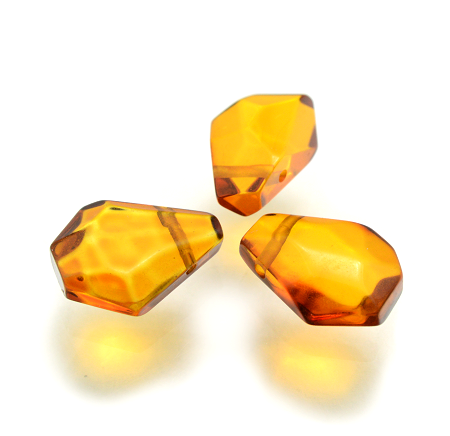 >
Love and Relationships

[1]

Activate interaction


[2]

Build a trusting relationship


[3]

Gain the fullness of love


[4]

Make a lasting relationship


[5]

Relieve anxiety

Money and Business

[1]

Enhance vitality


[2]

Achieve results


[3]

Take an opportunity


[4]

Grab wealth


[5]

Make a contract

Other Energy

[1]

Clear the mind of stuff


[2]

Balance emotions


[3]

Improve health


[4]

Regain youth


[5]

Heal energy

The meaning of an Amber gemstone is clearing. It has been known that an Amber gemstone has a healing power. If you tend to feel stress or want to balance your mind and feelings, Amber is for you.
---
Amber is formed through the fossilization of tree resin. Amber has been used in jewelry and ornaments. Because of its solidified natural energy, it has been said that Amber has a special meaning for this. It is mainly used as psychic protection. It gives a sense of health and healing.
---
It has been said that the energy in Amber takes out negative energies. The meaning of Amber also includes energy circulation. If you tend to feel fear or anxiety, wear it as a talisman. The energy of Amber stone is very warm and gently surrounds you.
---
Amber has been used since 2000 BC. The wealthy people have been wearing as a talisman in those days. Archaeologists have found Amber jewelry in tombs. It shows that Amber has been used as a special gemstone for thousands of years. Amber has been used not as a talisman but also as a product for trading. The meaning of Amber also includes wealth. People wear Amber for success.
---
Due to the fossilized resin, insects and leaves were trapped in Amber. Because of this, Amber has been used as a hunting talisman. The meaning of Amber also includes career success. If you deal with contracts in your career, try Amber. The magical Amber energy will lead you to success.
---
Amber is produced in many different countries. Since the quality of Amber depends on the gem mine, choose your favorite type. Depending on the color and inclusions, the meaning of Amber changes. The most popular color of Amber is transparent yellow. There are also orange and yellow-green Ambers. The Amber with insects and leaves is popular among collectors. For jewelry, the Amber with few inclusions is more popular. Cheap Amber might have fake inclusions. Since Amber is not a cheap gemstone, we recommend you to choose Amber in good quality.
Chakra Chart of Amber
9th Heaven Chakra
[God]

8th Air Chakra
[Cloud]

7th Crown Chakra
[Soul]

Blue Amber
[Wisdom] Thinking Ability

5th Throat Chakra
[Voice]

Green Amber
[Love] Tolerance

Yellow Amber
[Light] Productivity

2nd Sacral Chakra
[Guts]

Red Amber
[Life] Life Energy

0th Earth Chakra
[Person]
Amber Data
Chemical formula
C10H16O + H2S
Mohs scale
2-2.5
Specific gravity
1.05-1.10
Production
Russia
Latvia
Lithuania
Combination
Author Hayasaka Yoshino

Hayasaka Yoshino is a stone healer that usually works in Tokyo area, Japan. Yoshino is also famous as a fortune teller and seen over 10,000 people. "Fortune-telling counseling", which finds out the best gemstone for the client, received a high reputation. Representative director of LWE Co., Ltd.
>
Other Gemstone Recommendation