Super Seven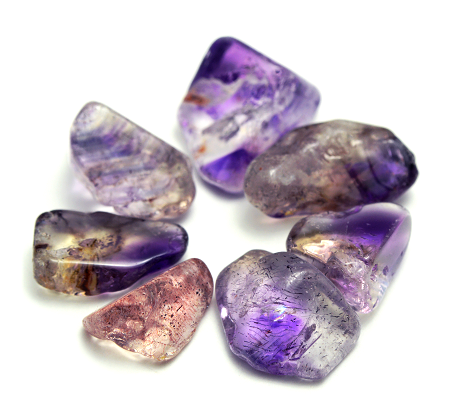 Love and Relationships

[1]

Accomplishment of a good match


[2]

Draw out charm


[3]

Increase trust


[4]

Convey my goodness


[5]

Behave with moderate distance

Money and Business

[1]

Liberation of potential


[2]

Increase developmental capabilities


[3]

Create a new boom


[4]

Balance offense and defense


[5]

Smooth communication

Other Energy

[1]

Encourage self-growth


[2]

Adjustment of energy balance


[3]

Strengthen inner strength


[4]

Take back the true-self


[5]

Become good when it counts

Super Seven is a gemstone that has a meaning and properties of awakening your energy. It has been believed for its power to bring out hidden potential. This gemstone is also used for self-development. Super Seven can strengthen owner's mental power. This gemstone has the power to make your will stronger. It is also useful when you want to increase your self-confidence.
---
Super Seven is a gemstone made from 7 different gemstones mixed. The 7 gemstones are: [1. Amethyst] [2. Smoky Quartz] [3. Rutile] [4. Goethite] [5. Lepidocrocite] [6. Cacoxenite] [7. Quartz] Some of them have other kinds of gemstones mixed too. You can have all the meanings and effects of mixed gemstones just by having one Super Seven. It is good for people who are looking for a really powerful gemstone.
---
Super Seven has a meaning and properties of broadening owner's horizons. You would be able to create brand new ideas and make a new wave. It is useful when you want to make innovative products or service. Please use the meaning and the effect of Super Seven if you are working in the field of planning or design. This gemstone is highly valued by many people working in publication or advertisement industry. It is also good to use when you want to make a boom.
---
Super Seven is a rare gemstone. There are only a few in the market and they are quite expensive, but there are many people who want one. Super Seven is becoming famous as a gemstone with special meanings and effects. It would be even more difficult to have one in the future.
---
There are 7 different gemstones in the ore of Super Seven. It is called Super Seven even though it is cut very small. If you want a perfect Super Seven, it is better to get a pure big ore. Usually it is cut in small pieces and made into bracelets or necklaces. All 7 types of energy will be in it even if you only have a small piece. High-quality and expensive beads of Super Seven have more components. If you want stronger power, please look for high-quality ones.
---
Super Seven has a meaning and properties of maintaining your energy. It is a gemstone with 7 kinds of energy in a perfect balance. When you feel negative, it would give you positive energy. On the other hand, it would cool you down when you have too much energy. Super Seven is a gemstone that can balance your energy in the best condition.
Chakra Chart of Super Seven
9th Heaven Chakra
[God]

8th Air Chakra
[Cloud]

Purple Super Seven
[Soul] Intuition

6th Third Eye Chakra
[Wisdom]

5th Throat Chakra
[Voice]

4th Heart Chakra
[Love]

3rd Solar Plexus Chakra
[Light]

2nd Sacral Chakra
[Guts]

Red Super Seven
[Life] Life Energy

Black Super Seven
[Person] Will Power
Combination

+ Sunstone
Stick to your beliefs till the end
Author Hayasaka Yoshino

Hayasaka Yoshino is a stone healer that usually works in Tokyo area, Japan. Yoshino is also famous as a fortune teller and seen over 10,000 people. "Fortune-telling counseling", which finds out the best gemstone for the client, received a high reputation. Representative director of LWE Co., Ltd.
Other Gemstone Recommendation