Selenite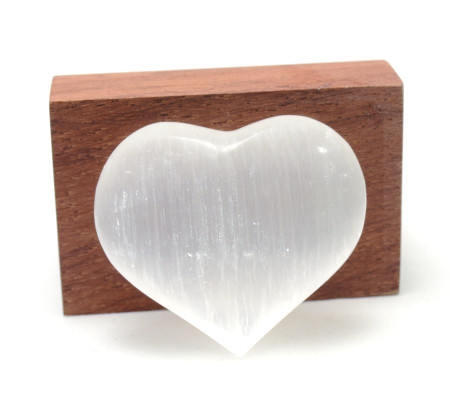 Love and Relationships

[1]

Build a cooperative relationship


[2]

Grab a good match


[3]

Strengthen trust


[4]

Have confidence in yourself


[5]

Deepen mutual understanding

Money and Business

[1]

Increase insight


[2]

Make your mind clear


[3]

Flash up good ideas


[4]

Communication ability up


[5]

Grab a change without missing

Other Energy

[1]

Improve inner strength


[2]

Improve shyness with people


[3]

Receive a message from heaven


[4]

Get a sense of security


[5]

Solve the mental problem

Selenite is a gemstone that has a meaning and properties of enhancing mental power. The name of it comes from "selene," which means moon in Greek. The moon is a symbol of mentality and this gemstone is known for its mystic energy. Selenite would protect owner's mind and soul kindly. It is a great gemstone that supports all kinds of mental problems.
---
Selenite has a meaning and properties of finding out your real intention. People believe that it would let them know what they really have deep inside their mind. It can help you see yourself correctly and build better future. This gemstone is used when you want to release your stress in your daily life, or when you want more self-confidence. Selenite would help you clear the fog in your mind.
---
Selenite is a gemstone that has a meaning and properties of increasing flexibility of your mind. From the old days, it is known for its power to correct negative thinking. It would support your decision making by letting you understand things well. Selenite is a gemstone that is used when people want to improve weak decision making. If you often have hesitation, please try the meaning and properties of Selenite.
---
Selenite is a gemstone that can enhance intuition. It can receive messages from the heaven because Selenite has the energy of the moon. This gemstone can sense invisible energy and convert it to words and sentences. It is good to have when you want to know the true value of things or want to have cutting-edge ideas. Selenite would strengthen owner's information sensing skill.
---
Selenite has a meaning and properties of increasing love energy. The moon is a symbol of cooperativeness and it would deepen love with your beloved ones. It will be good for increasing love luck or improving relationships. This gemstone is also useful when you want to improve shyness or increase communication skills. Your level of happiness would become higher by having more heart-warming experience. Selenite is good to use when you want to clear loneliness or anxiety.
---
Selenite is a gemstone that has a meaning and properties to get rid of obstacles in your mind. It would heal trauma in the past and bring you back to the right condition. This gemstone is good to have when you want to improve refusal to people or things. Selenite works well when you want to have bright future and hope. You may be able to take a new step forward by making your mind clear. It would give you courage and power to make progress at the same time.
Chakra Chart of Selenite
Selenite
[God] Creativity

8th Air Chakra
[Cloud]

7th Crown Chakra
[Soul]

6th Third Eye Chakra
[Wisdom]

5th Throat Chakra
[Voice]

4th Heart Chakra
[Love]

3rd Solar Plexus Chakra
[Light]

2nd Sacral Chakra
[Guts]

1st Root Chakra
[Life]

0th Earth Chakra
[Person]
Selenite Data
Chemical formula
Ca[SO4]2H2O
Mohs scale
2
Specific gravity
2.30-2.33
Production
United States
Mexico
Chile
Combination

+ Larimar
Go over the past and advance to the future

+ Kunzite
Be honest to your own feelings
Author Hayasaka Yoshino

Hayasaka Yoshino is a stone healer that usually works in Tokyo area, Japan. Yoshino is also famous as a fortune teller and seen over 10,000 people. "Fortune-telling counseling", which finds out the best gemstone for the client, received a high reputation. Representative director of LWE Co., Ltd.
Other Gemstone Recommendation