Coral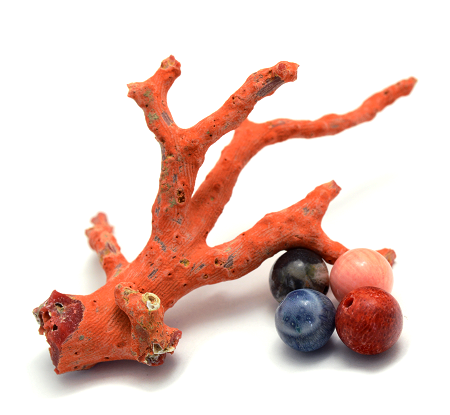 Coral has meaning and properties of purifying its owner's energy. This gemstone has a lot of beautiful energy of ocean inside. It would purify evilness that you have stocked in yourself without noticing it. Please use it when you get stressed out easily or tend to get influenced by your circumstances. You can get back calm mind by using Coral.
---
Coral is a gemstone that is used as an amulet. Not only purifying energy, it has meaning and properties to protect you from bad things. Please use Coral if you have many enemies or rivals around you. It would sense many kinds of danger and help you avoid them.
---
Coral has meaning and properties of making energy circulation better. It is especially effective for emotional energy. This gemstone will change negative feelings into positive feelings. It is useful when you want to keep your heart in a beautiful condition. Coral is good for the maintenance of your heart.
---
Coral is good to use to face your true self. Please use it when you feel like you lost yourself or you aren't being honest with yourself. Just like looking at a mirror, you will be able to see your real self-image. It would reduce stress or excessive actions by knowing your true mind. This gemstone will give you courage to achieve your dream or goal again.
---
Coral has meaning and properties of making its owner's heart warm. The energy of Coral is warm because it lives in a warm ocean. It would heal cold feelings and fill its energy into where it is lacking. Various possibilities will begin to grow by warming energy of your heart. It is also good for people who have difficulty to take actions because of hurt feelings in the past. The energy of Coral will show you a bright future.
---
Coral is a gemstone with several color variations. There are red, pink, blue, brown, black, and white. It will look like a marine garden if we place Corals with various colors. Red Coral is the most famous and the most popular. Natural-colored ones are very valuable, and they will be very expensive. If you need a natural Coral, please make sure to have big budgets.
---
Coral has meaning and properties of giving freedom to its owner. The energy of big ocean has the power to release the energy you possess. It would support you to swim freely in the ocean of life. This gemstone is good for people who have many kinds of barriers or limits. It will cut hard and heavy chain around you and give you true freedom.
---
Coral is also famous as an amulet for birth and pregnancy. It has been valued as a gemstone with meaning and properties of prosperity of descendants. By having the energy of abundant ocean, your descendants will prosper. This power is effective for both men and women. It is also popular as a gift for an easy delivery.
Chakra Chart of Coral
White Coral
[God] Creativity

8th Air Chakra
[Cloud]

7th Crown Chakra
[Soul]

Blue Coral
[Wisdom] Thinking Ability

5th Throat Chakra
[Voice]

4th Heart Chakra
[Love]

3rd Solar Plexus Chakra
[Light]

Orange Coral
[Guts] Persistence

Red Coral
[Life] Life Energy

Black Coral
[Person] Will Power
Author Hayasaka Yoshino

Hayasaka Yoshino is a stone healer that usually works in Tokyo area, Japan. Yoshino is also famous as a fortune teller and seen over 10,000 people. "Fortune-telling counseling", which finds out the best gemstone for the client, received a high reputation. Representative director of LWE Co., Ltd.
Other Gemstone Recommendation