Chrysocolla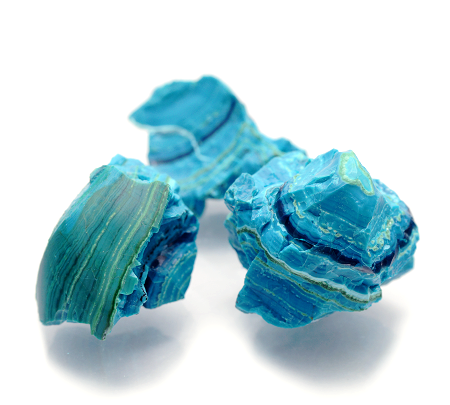 Love and Relationships

[1]

Facilitate communication


[2]

Build a stable relationship


[3]

Find true love


[4]

Enhance affections


[5]

Grab an adequate distance perspective

Money and Business

[1]

Increase charms


[2]

Increase leadership


[3]

Take back honest emotions


[4]

Prevent falsehood


[5]

Heal people

Other Energy

[1]

Increase your ability to express


[2]

Make your feelings calm


[3]

Improve spirit of inquiry


[4]

Purification of negative energy


[5]

Relieve tension

The meaning of Chrysocolla is love. This gemstone has been said to improve self-expression skills. It is said to be effective for romantic and human relationships. This is a best gemstone to build social skills.
---
Chrysocolla is said to have a goddess in it and to support human relationships. The meaning of Chrysocolla also includes true love. This gemstone helps you to convey your emotions with heartfelt expressions and to build better relationships. Chrysocolla is one of the most powerful gemstones for communication. This gemstone energizes your throat chakra. This power improves your self-expression skills and attracts people. If you deal with a healing work or if your work requires verbal communication, try Chrysocolla. This gemstone gives you courage and has a power to lead you.
---
The meaning of Chrysocolla also includes healing. This gemstone calms you down and improves your energy circulation. It has also been cherished by American Indians. This gemstone has been sacred as a teaching stone. It is said to receive messages from heaven. This gemstone is effective if you are looking for appropriate advices or information. Chrysocolla also has a power not just to receive good messages but also to convey them to people effectively. It is recommended for teachers or those who require self-expressions at work.
---
Chrysocolla makes your heart honest. The meaning of Chrysocolla also includes an energy-receiver. It is recommended for those who want to receive important information in this world. This gemstone has a power to change the valuable information into your own interests. Chrysocolla has a very powerful healing energy and purifies negative energy. If you tend to produce slips of the tongue or to get nervous when speaking, Chrysocolla supports you.
---
Chrysocolla is an unique gemstone due to its mystical patterns. This gemstone is found in many countries but the color and its atmosphere depend on its gem mines. Not a single stone has the same pattern, so obtain the stone when you find Chrysocolla. This gemstone has a variety of constituents and distinct characteristics. If you are able to find your favorite Chrysocolla, it will be your lifetime companion.
Chakra Chart of Chrysocolla
9th Heaven Chakra
[God]

8th Air Chakra
[Cloud]

7th Crown Chakra
[Soul]

Blue Chrysocolla
[Wisdom] Thinking Ability

Blue Chrysocolla
[Voice] Expression

Green Chrysocolla
[Love] Tolerance

3rd Solar Plexus Chakra
[Light]

2nd Sacral Chakra
[Guts]

1st Root Chakra
[Life]

0th Earth Chakra
[Person]
Chrysocolla Data
Chemical formula
Cu4H4[(OH)8 | Si4O10]nH2O
Mohs scale
2-4
Specific gravity
2.8-3.2
Production
United States
Mexico
Chile
Combination
Author Hayasaka Yoshino

Hayasaka Yoshino is a stone healer that usually works in Tokyo area, Japan. Yoshino is also famous as a fortune teller and seen over 10,000 people. "Fortune-telling counseling", which finds out the best gemstone for the client, received a high reputation. Representative director of LWE Co., Ltd.
Other Gemstone Recommendation