Agate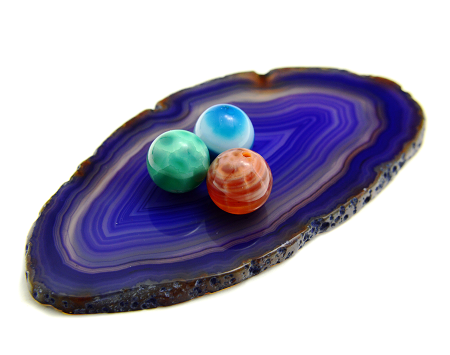 Agate is a gemstone with meaning and properties of achieving goals. From ancient times, people have believed that it can give them strength needed to accomplish things. It is good for people who have a dream. Agate also has the power to stimulate its owner's growth. As your dreams come true, your soul will also become mature.
---
Agate is known for having meaning and properties of an amulet. It is a powerful gemstone that has been used to avoid nightmares. It will absorb its owner's malevolence and excrete them from your body. By making your metabolism better, it would reduce the amount of your wasting energy. It is also used to get away from others' evil thoughts and prevent accidents.
---
The history of Agate is very long, and some theories say it is the oldest gemstone. Its special meanings and properties will be proofed by that history. Even in recent times, it is still popular, and many people are using it. It is one of the gemstones that you should have if you are a gemstone fan.
---
Agate is a gemstone with meaning and properties of balancing your emotion. It is often used to reset people's feelings. If you feel like you are being controlled by negative feelings, please use Agate as your amulet. It is also useful when you need to make big decisions. You would be able to choose the best way by making yourself calm.
---
Agate is a gemstone that has various types. Their names will change by their color and components. The meanings and the properties are also slightly different.
[Famous Types of Agate]
- Red Agate
- Blue Agate
- Green Agate
- Moss Agate
- Botswana Agate
- Blue Lace Agate
They are the famous types.
---
Agate is a gemstone to get back your self-confidence. It has meaning and properties of recovering hurt feelings from failure. You would be able to get energy needed to take a step forward again. It is also good for people who are have responsible role. It can give you power to lead people.
---
Agate has meaning and properties of increasing motivation and enthusiasm. This gemstone is highly supported by people who do creative work. It can prevent the failure occurring before the work is finished. It is also useful when you want to continue things longer.
---
Agate is a gemstone that can strengthen its owner's imagination. By expanding the image, it would make the situation better to create new value. It will be useful for people such as creative artists or business owners creating new business. Agate is a good gemstone to create ideas for success.
Chakra Chart of Agate
White Agate
[God] Creativity

Gray Agate
[Cloud] Application

Purple Agate
[Soul] Intuition

Blue Agate
[Wisdom] Thinking Ability

Blue Agate
[Voice] Expression

Green Agate
[Love] Tolerance

Yellow Agate
[Light] Productivity

Orange Agate
[Guts] Persistence

Red Agate
[Life] Life Energy

Black Agate
[Person] Will Power
Author Hayasaka Yoshino

Hayasaka Yoshino is a stone healer that usually works in Tokyo area, Japan. Yoshino is also famous as a fortune teller and seen over 10,000 people. "Fortune-telling counseling", which finds out the best gemstone for the client, received a high reputation. Representative director of LWE Co., Ltd.
Other Gemstone Recommendation