Peridot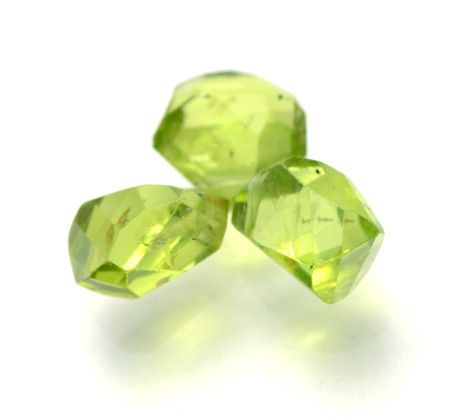 Love and Relationships

[1]

Make a mutual love


[2]

Attract a good match


[3]

Advance a relationship


[4]

Build a bright relationship


[5]

Repair relationships

Money and Business

[1]

Get a job you hope for


[2]

Give the necessary opportunity


[3]

Accomplish the goal


[4]

Increase motivation


[5]

Develop a business

Other Energy

[1]

Attract good luck


[2]

Keep youthful


[3]

Make a positive feeling


[4]

Increase vitality


[5]

Amulet for a good couple

Peridot is a gemstone that has a meaning and properties of prosperity. It is known as a historical gemstone that has been used for thousands of years. This gemstone would give energy to the owner's mind to make a progress. If you have a dream or a goal to achieve, please try the meaning and properties of Peridot. It would sympathize with the owner's feelings and gives you a good chance.
---
Peridot also has a meaning and properties of increasing self-confidence and making thoughts clear. It is good to use when you want to organize your thinking or want to feel positive.
---
Peridot is known for a gemstone that brings good luck and prospers the owner's life. Especially beautiful Peridots were given to the royal family or the nobility. Many of the successful people in the history were wearing Peridot and prayed for the prosperity of family. This bright green color is a symbol of youthfulness. Peridot also has a meaning and properties of rejuvenation. It is a good gemstone for people who want to have fresh energy or people who want to work in the front line.
---
Peridot is a very clear green gemstone. Some of them can be dark green or brownish depending on the country where it is produced. Bluish-green ones and yellowish-green ones may have different impression, too. Peridot with pure green with high clearness has the best meaning and properties. Beautiful Peridots are handled as jewelry and they are very expensive. High-quality ones are really popular and they are in great demand even the price is high. If you find your favorite Peridot, it might be better to buy it as soon as possible.
---
Peridot is one of the oldest gemstones, and it is written in the Old Testament. According to the description, Peridot was used for the High Priest's breastplate. There are many legends about Peridot all around the world because of its long history. It is a gemstone that was used among people with special power or successful people. The meaning and properties of Peridot is inherited for thousands of years. This fact is a great proof of Peridot's power.
---
Peridot can charge you good love energy. This energy would clear off owner's negative energy. If you have a trauma from the past or getting stressed out easily, please try the meaning and properties of Peridot. From ancient times, Peridot is also has been used as an amulet to protect the soul. It is a good gemstone for people who work with other people a lot or people who need good mental power at work.
Chakra Chart of Peridot
9th Heaven Chakra
[God]

8th Air Chakra
[Cloud]

7th Crown Chakra
[Soul]

6th Third Eye Chakra
[Wisdom]

5th Throat Chakra
[Voice]

Green Peridot
[Love] Tolerance

3rd Solar Plexus Chakra
[Light]

Brown Peridot
[Guts] execution power

1st Root Chakra
[Life]

0th Earth Chakra
[Person]
Peridot Data
Chemical formula
(Mg,Fe2+)2[SiO4]
Mohs scale
6.5-7
Specific gravity
3.27-4.32
Production
United States
Myanmar
Pakistan
Combination

+ Citrine
Increase the pleasure of life

+ Aquamarine
Get cooperation from the surroundings
Author Hayasaka Yoshino

Hayasaka Yoshino is a stone healer that usually works in Tokyo area, Japan. Yoshino is also famous as a fortune teller and seen over 10,000 people. "Fortune-telling counseling", which finds out the best gemstone for the client, received a high reputation. Representative director of LWE Co., Ltd.
Other Gemstone Recommendation