Spinel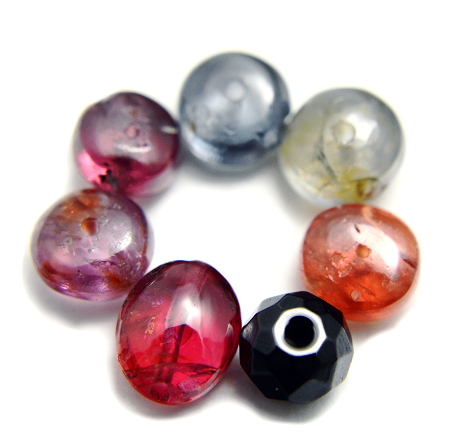 Spinel has meaning and properties of making your feelings positive. This gemstone can deny negative energy. It is useful to keep your mind in the best condition. Please use it when you tend to have more stress.
---
Spinel has meaning and properties of making your skills stand out. This gemstone symbolizes sharp things and its ore has sharp shape, too. It is useful when you want outstanding skills or power to win a fight. You would be able to have energy that can overwhelm others. It is popular as a gemstone to survive competitive society. It is also recommended if you have a rival that you want to win.
---
Spinel is a gemstone used to open up a way to success. It is popular as a gemstone that can lead people to the place they want to go. It is also good to use when you want to achieve your dream quicker. Spinel would lead you to the best route.
---
Spinel has meaning and properties of enhancing the ability to continue. It would fulfill your efforts and get great success. Spinel is a gemstone that can support you to prosper your life. It would help you have good results and attract wealth to you. It will be good for people who want to become a successful person.
---
Spinel is a gemstone with many kinds of colors. Famous ones are Red Spinel and Black Spinel. There are also blue, yellow, and green, but they are rare and expensive. You will need bigger budgets if you are looking for a rare color. It is mostly sold in necklaces or earrings and there are only few bracelets. Please find a good design that is easy for you to wear.
---
Spinel is an expensive gemstone compared to common ones. But you can get great meanings and properties from it. You will definitely be satisfied with its beautiful shine. Since its ore is fairly small, it is rare to see it used in a big shape. Although it is small, it has good uniqueness and it won't let you get bored. Red Spinel is sometimes used instead of Ruby, one of the most famous red gemstones. You can enjoy a little different red shine from Ruby.
---
Spinel has meaning and properties of making your intuition sharper. This gemstone is often used as an amulet to avoid danger. It would prevent you to forget things or make mistakes from an oversight. Spinel is known for the power to enhance wisdom. It is also useful when you want to think about how to prevent mistakes or misfortunes to happen again.
---
Spinel is a gemstone that is used to prevent getting stressed out. It is especially good at protecting attacks from outside. It is useful when you want to keep delicate relationship calm. This gemstone will help you be in a peaceful environment.
Chakra Chart of Spinel
White Spinel
[God] Creativity

Gray Spinel
[Cloud] Application

Purple Spinel
[Soul] Intuition

Blue Spinel
[Wisdom] Thinking Ability

Blue Spinel
[Voice] Expression

Green Spinel
[Love] Tolerance

Yellow Spinel
[Light] Productivity

Orange Spinel
[Guts] Persistence

Red Spinel
[Life] Life Energy

Black Spinel
[Person] Will Power
Author Hayasaka Yoshino

Hayasaka Yoshino is a stone healer that usually works in Tokyo area, Japan. Yoshino is also famous as a fortune teller and seen over 10,000 people. "Fortune-telling counseling", which finds out the best gemstone for the client, received a high reputation. Representative director of LWE Co., Ltd.
Other Gemstone Recommendation