Roman Glass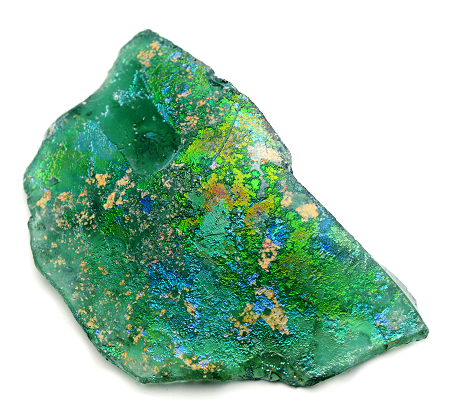 Roman Glass has the meaning and properties to enhance creativity. You will get ideas to create new things and services. It is also recommended for those who aim for blending "traditional technology" and "latest technology". It will realize reforms tailored to the needs of the times. It is ideal for getting out of a stagnant situation.
---
Roman Glass has the meaning and properties to enhance the owner's concentration. It is an amulet to concentrate energy on the most important matters at present. You can grab a success and good luck efficiently. It is also recommended when you want to improve halfway situations.
---
Roman Glass has the meaning and properties of restoring the flow of good fortune. It is an amulet to convert "minus energy" to "plus energy". A big fortune that cleans the slate of the misfortune is drawn. It is recommended when you aim for reverse victory.
---
Roman Glass is an ancient glass. According to the name, the glass made in ancient Rome is the basis. The old type is manufactured in the 1st century (1 year to 100 years AD). It is an interesting amulet that you can experience ancient energy.
---
When Roman Glass is buried in the ground it changes to a beautiful color. You can enjoy many colors such as "blue", "green", "yellow", "orange" or "red". This variegated color is created by underground minerals. It is a charm that "human energy" and "natural energy" beautifully harmonized.
---
The atmosphere of Roman Glass changes with the glass of the base. "Blue", "blue green" or "green" is relatively many. Others, "transparent color", "yellow" or "purple" etc. exists. Please choose your favorite color and use it. If you find a favorite color and pattern, it will become a lifetime charm.
---
Good Roman Glass is sold as antiques. Those without 'scratches' or 'chipping' will be given higher values. You can find it by looking for an antique art shop etc. The fragments of Roman Glass are popular as jewelry materials. By utilizing beautiful colors, "necklace", "pierces", "bracelet" etc. will be produced. Since the volume of distribution is small, please do not hesitate to find a dominant jewelry shop. The fragment type is given a higher price as the color is more beautiful.
---
Roman Glass has the meaning and properties of making dreams come true. It is an amulet to give "energy", "luck" and "execution power" indispensable to the realization of dreams. It constantly gives energy until it reaches the target. It is also recommended when you want a will that does not give up your dream to the end.
---
Roman Glass has the meaning and properties to improve human relations. It is a charm to simultaneously carry out "securement of allies" and "prevention of enemy attack". It maximizes the ability to live in an organization. It is also effective when you want to be released from the daily loneliness.
Chakra Chart of Roman Glass
9th Heaven Chakra
[God]

8th Air Chakra
[Cloud]

7th Crown Chakra
[Soul]

Blue Roman Glass
[Wisdom] Thinking Ability

Blue Roman Glass
[Voice] Expression

Green Roman Glass
[Love] Tolerance

3rd Solar Plexus Chakra
[Light]

2nd Sacral Chakra
[Guts]

1st Root Chakra
[Life]

Black Roman Glass
[Person] Will Power
Author Hayasaka Yoshino

Hayasaka Yoshino is a stone healer that usually works in Tokyo area, Japan. Yoshino is also famous as a fortune teller and seen over 10,000 people. "Fortune-telling counseling", which finds out the best gemstone for the client, received a high reputation. Representative director of LWE Co., Ltd.
Other Gemstone Recommendation