Purifying by Sunlight Bathing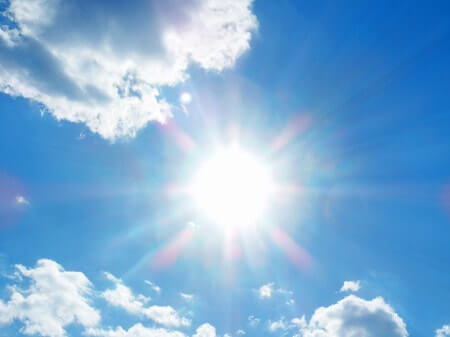 There is a way to purify gemstones by sunlight bathing. You can remove negative energy by the strong power of sunlight. It is the best way for purifying when you want to charge positive energy.
How to Purify Gemstones by Sunlight Bathing

Put the gemstone at a place where the sunlight comes in. The procedure is written below, so please check before you do purification by sunlight bathing.

---

<1> Check the weather forecast.
Since we need sunlight for sunlight bathing, it is better to do it on a sunny day. Check the weather forecast to see which day is the best for purifying gemstones. The purifying effect will be good in this order: sunny > cloudy > rainy.

---

<2> Find a good window to have sunlight
Look for a good window that can have good sunlight. Please find a brighter window if the sunlight is not coming in well. You may put gemstones outside for sunlight bathing, but there is a risk of losing them, so it is not recommended.

---

<3> Put the gemstone at the window
Put the gemstone you want to purify at the window. Don't move it for a while. You can stop purifying if it starts to rain. It would be better to purify it on another day with fine weather.
Purifying Time of Sunlight Bathing

For sunlight bathing, more than 2 hours will be needed. Purification will be done in around 2 hours. If you want to charge more power, 3 or 4 hours would be good. When the weather is bad, it is also good to purify for 3 to 4 hours.
Frequency of Sunlight Bathing

Purifying by sunlight bathing is recommended to do more than once a month. If you want to keep the energy of a gemstone clean or want a power to proceed to the future, you can purify gemstones more often. Everyday purifying is also accepted. Please try sunlight bathing as long as it is not too much work for you.
Gemstones That Are Not Good to Purify by Sunlight Bathing

Some gemstones can change its property by doing sunlight bathing. It is not suitable for all gemstones, so please check carefully before you do sunlight bathing. Some gemstones can change its color or get a crack. For example, Amethyst, Aquamarine, Citrine, Opal, Topaz, and Tanzanite are not good to purify by sunlight bathing.

---

If the checking is too much work for you, it would be better to purify gemstones with Quartz Cluster, Quartz Chips, or Crystal Tuner. These methods are suitable for most gemstones. It will save your checking time before purifying gemstones.
Other Gemstone Recommendation