Apatite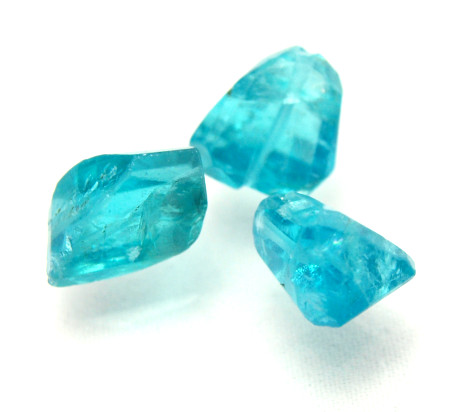 Love and Relationships

[1]

Grab a good match


[2]

Have confidence in yourself


[3]

Facilitate communication


[4]

Be honest with your feelings


[5]

Build a bright future

Money and Business

[1]

Extract latent potential


[2]

Convey your intents correctly


[3]

Clarify the future plan


[4]

Break through difficulties


[5]

Improve your creativity

Other Energy

[1]

Give spiritual healing


[2]

Increase self-expressiveness


[3]

Improve spiritual skills


[4]

Guide life in the right direction


[5]

Heal traumas of the past

The meaning of Apatite is healing. The gemstone heals the mind and spirit of its owner. If you want to build inner strength, Apatite is good for you.
---
Apatite also helps its owner to grow his/her inner spirit. It guides you to move on to the next levels. If you want to believe in yourself or acknowledge yourself, try Apatite. Apatite has strong effects of building confidence.
---
Apatite is a very spiritual gemstone and it has been said that the stone increases your intuition or psychic power. It also opens up your foreseeing ability. The power of Apatite clarifies your future vision and guides you in the right direction. It also opens up the throat chakra, which helps its owner to convey the message correctly.
---
There are varieties of colors in Apatite. Blue color is most popular but green and yellow colors are also available. There are two blue color types; dark one and pale one. Pick the one you prefer. Since Apatite has a variety of colors, it is often mistaken from other gemstones. Because of this, the meaning of Apatite also includes assimilation.
---
Apatite improves the spiritual power of its owner. It will be helpful to circulate energies of its owner. This healing energy is also said to purify the aura of its owner. If you seek for useful ideas or information in order to overcome your difficulty, place Apatite under your pillow or by your bed. It will stimulate your spirit and give you advice to create a new future.
---
The meaning of Apatite also includes healing from the past trauma or stress. It heals the wounded heart and gives its owner to energy to move on. If you want to vision a bright future, Apatite is for you. It will be useful when you want to shift your life in the better direction. It has been said that the energy of Apatite restores the original self of its owner. If you tend to act differently from your will or tend to feel stressed, try Apatite.
---
The more transparent and clearer the stone is, the higher the price gets. The most powerful and expensive Apatite is the top quality. If you seek for more powerful Apatite, choose a high quality gemstone. Since clear Apatite is very rare, supply is limited. Consult the shop for more details.
Chakra Chart of Apatite
White Apatite
[God] Creativity

8th Air Chakra
[Cloud]

Purple Apatite
[Soul] Intuition

Blue Apatite
[Wisdom] Thinking Ability

Blue Apatite
[Voice] Expression

Green Apatite
[Love] Tolerance

Yellow Apatite
[Light] Productivity

Brown Apatite
[Guts] execution power

Pink Apatite
[Beauty] attractiveness

0th Earth Chakra
[Person]
Apatite Data
Chemical formula
Ca5[F,OH | (PO4)3]
Mohs scale
5
Specific gravity
3.10-3.35
Production
Mexico
Canada
Brazil
Combination

+ Amethyst
Clarify visions of the future

+ Fluorite
Adapt to changes in the environment

+ Peridot
Go back to being yourself
Author Hayasaka Yoshino

Hayasaka Yoshino is a stone healer that usually works in Tokyo area, Japan. Yoshino is also famous as a fortune teller and seen over 10,000 people. "Fortune-telling counseling", which finds out the best gemstone for the client, received a high reputation. Representative director of LWE Co., Ltd.
Other Gemstone Recommendation