Prasiolite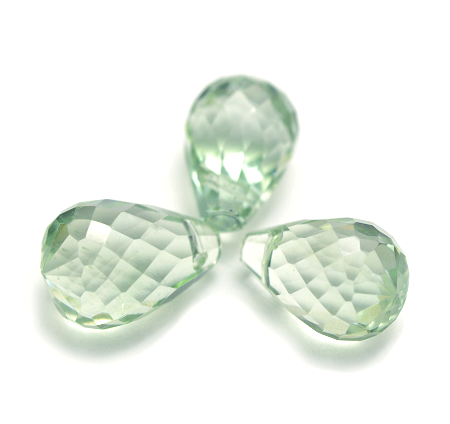 Love and Relationships

[1]

Develop a relationship


[2]

Open your heart


[3]

Strengthen compassion


[4]

Activate love energy


[5]

Improve sympathetic ability

Money and Business

[1]

Improve mental strength


[2]

Find a suitable job


[3]

Increase passion


[4]

Expand possibilities


[5]

Pull out talent

Other Energy

[1]

Make a miracle


[2]

Balance of body and mind


[3]

Enrich expressions


[4]

Make dreams come true


[5]

Flowering of talent

Prasiolite is a gemstone that has a meaning and properties of putting your mind to its natural condition. Another name of it is Green Amethyst. This gemstone is made by heating a special kind of Amethyst. Not all of Amethysts become green. Therefore, this gemstone is a symbol of "miracle."
---
Prasiolite has the same character with Amethyst. Amethyst is famous for an amulet of enhancing mental power, and Prasiolite also has the same power. If you want to have the meaning and properties of Amethyst but want to have something other than purple, Prasiolite will be the one for you. It is also good for people that can be luckier with green than purple.
---
Since it is heated once, it has the character of flame. The energy of flame in Prasiolite is known for the power to help the owner to grow. It might seem difficult to get along with flame, but it is a very handy gemstone. Prasiolite is a gemstone in a Crystal group which sympathizes well with human energy. The powerful energy of it fits perfectly with owner's spirit.
---
The special green color of Prasiolite is a symbol of love. It has a meaning and properties of healing and balancing your mind. Prasiolite is useful for people who want to have stronger love and kindness. It is also good for people who want to heal negative energy such as stress, anxiety, fear, and sadness. This gemstone would clear your discordant energy and bring you into a natural condition.
---
Prasiolite has a meaning and properties of making your mind natural and enhancing your expressive power. If you are not so good at expressing yourself or if you often have to share information, please try using this gemstone. It is also effective when you want to make your dreams come true. Please use this gemstone if you want to increase your activeness or work hard for your dreams. Prasiolite strongly synchronizes with the owner's soul. Your possibilities might open for you by increasing the power of mind and soul. This gemstone is good for people who want to bring out unawakened potential or talents.
---
The green color of Prasiolite vitalizes the energy around your chest. Prasiolite is a gemstone that has a meaning and properties of strengthening the soul around your heart. Necklaces are the most popular because of that meaning. You can receive its energy more effectively by wearing a necklace so the gemstone can come near your heart. There are bracelets and earrings too. If you are wearing a bracelet, it might be better to wear it on your left arm so it comes closer to your heart.
Chakra Chart of Prasiolite
9th Heaven Chakra
[God]

8th Air Chakra
[Cloud]

7th Crown Chakra
[Soul]

6th Third Eye Chakra
[Wisdom]

5th Throat Chakra
[Voice]

Prasiolite
[Love] Tolerance

3rd Solar Plexus Chakra
[Light]

2nd Sacral Chakra
[Guts]

1st Root Chakra
[Life]

0th Earth Chakra
[Person]
| | |
| --- | --- |
| | Prasiolite Data |
| Chemical formula | SiO2 |
| Mohs scale | 7 |
| Specific gravity | 2.65 |
| Production | Brazil |
Combination

+ Quartz
Enhancement of energy
Author Hayasaka Yoshino

Hayasaka Yoshino is a stone healer that usually works in Tokyo area, Japan. Yoshino is also famous as a fortune teller and seen over 10,000 people. "Fortune-telling counseling", which finds out the best gemstone for the client, received a high reputation. Representative director of LWE Co., Ltd.
Other Gemstone Recommendation