Pink Chalcedony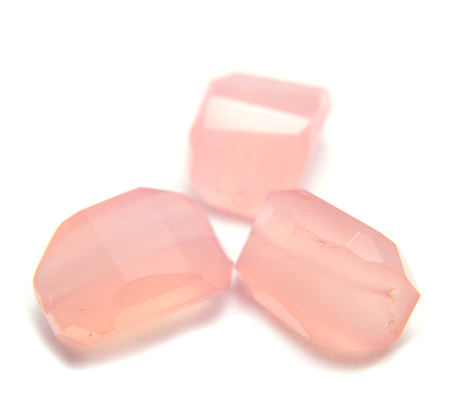 Love and Relationships

[1]

Enhance mutual affection


[2]

Understand other's feelings


[3]

Strengthen ties


[4]

Draw out charm


[5]

Increase family luck

Money and Business

[1]

Increase self-performance


[2]

Strengthen trust with friends


[3]

Raise subordinates


[4]

Facilitate an information exchange


[5]

Develop work

Other Energy

[1]

Talisman against evil


[2]

Improve a relationship


[3]

Increase empathy


[4]

Support self-growth


[5]

Heal traumas of the past

Pink Chalcedony is a gemstone with a meaning and properties of making your mind calm. It would make your feelings fresh and enhance your skill to empathize with others. This gemstone has full of warm love energy. Your love luck would increase by having stronger bonds with people and becoming more trustful. It is also good to use for improving human relationships or increasing family luck.
---
Pink Chalcedony has power to nurture things. This gemstone is popular for raising a child. It is also preferred by people working in education or management. The power of growth that Pink Chalcedony has is also effective for yourself. Please use it when you want to improve your skills or talents.
---
Pink Chalcedony is a gemstone that can heal trauma or shocking incidents in the past. It is often used to stop making same mistakes. Pink Chalcedony would gently purify negative energy and fills you with wave motion of love. It would give courage and self-confidence to the owner after healing. If you want the energy to make progress to the future, please try the meaning and the effect of Pink Chalcedony.
---
There are many types of Chalcedony. The most famous one is Blue Chalcedony. There are pink ones as shown on this page, and also white ones. The meanings and the effects will change by its color, so please choose the Chalcedony you prefer. Some has transparent colors and some has colors with opacity. The ones with beautiful color and high-transparency are considered as high-quality ones. It would be difficult to find one except Blue Chalcedony. If you need one, please ask specialty shops whether they have it or not.
---
Pink Chalcedony has similar components with Quartz. You would be able to have the meanings and the effects of Quartz at the same time. Quartz symbolizes clear water and considered to have strong purifying power. The purifying power of Pink Chalcedony is a gift from components of Quartz. It is also good to use as an amulet.
---
Pink Chalcedony has a meaning and properties of strengthening the bonds and trust with your peers. The ties will become stronger by enhancing the love energy. The beautiful pink color is considered to symbolize the heart. A heart is an organ that has feelings and a soul of that person. You would be able to receive many kinds of blessings by enhancing the energy of heart. It would be good to use when you want to control your emotions well or when you want to tell your thoughts smoothly to others. It is also effective to increase your self-confidence or understand other people. Pink Chalcedony would fill the owner with warm love.
Chakra Chart of Pink Chalcedony
9th Heaven Chakra
[God]

8th Air Chakra
[Cloud]

7th Crown Chakra
[Soul]

6th Third Eye Chakra
[Wisdom]

5th Throat Chakra
[Voice]

4th Heart Chakra
[Love]

3rd Solar Plexus Chakra
[Light]

2nd Sacral Chakra
[Guts]

Pink Chalcedony
[Beauty] attractiveness

0th Earth Chakra
[Person]
Combination
Author Hayasaka Yoshino

Hayasaka Yoshino is a stone healer that usually works in Tokyo area, Japan. Yoshino is also famous as a fortune teller and seen over 10,000 people. "Fortune-telling counseling", which finds out the best gemstone for the client, received a high reputation. Representative director of LWE Co., Ltd.
Other Gemstone Recommendation