Rhodonite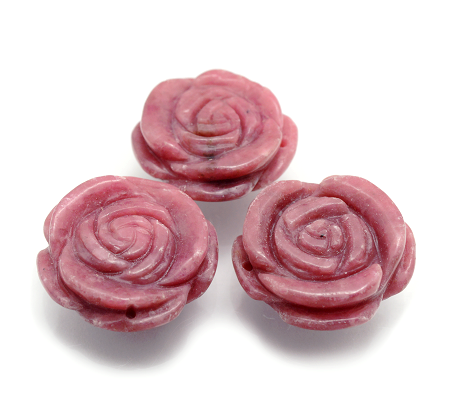 Love and Relationships

[1]

Build a bright relationship


[2]

Improve confidence


[3]

Distinguish the feelings of another


[4]

Find a soulmate


[5]

Control emotions

Money and Business

[1]

Pull out the latent talent


[2]

Solve problems


[3]

Cast aside your doubts


[4]

Make the mind positive


[5]

Increase pioneering power

Other Energy

[1]

Heal your heart


[2]

Eliminate anxiety


[3]

Prevent conflict


[4]

Raise the level of the soul


[5]

Open up a bright future

Rhodonite is a gemstone that has a meaning and properties of healing your mind. It has been believed that it would vitalize owner's love energy and release anxiety or fear. This is a good gemstone to use when you want to increase your thoughtfulness or keep your feelings steady. Rhodonite is best for people who get stressed out easily.
---
Rhodonite has very strong healing power. It is not only for healing, it also has a meaning and properties of solving problems. Rhodonite would support you understand the reason of being negative and how to release it.
---
Rhodonite can give you the power to flexibly receive all the feelings and thoughts of people. It is good for people who want to solve problems peacefully, not aggressively. The love energy would lead everything to harmony. If you have anger or sadness inside you, please try the meaning and properties of Rhodonite. From ancient times, people believed that Rhodonite has a role of bringing back people's disordered feelings to the right condition. Please use this gemstone if you have lots of emotional ups and downs or stop being upset suddenly.
---
Rhodonite has a meaning and properties of bringing out the owner's hidden talent. It has been told that it would find your inborn talent that you haven't noticed. This gemstone would help you awaken your hidden talent and make your future even more creative. If you feel like your life is not perfect and think that you want to change your fate, please try the meaning and the effect of Rhodonite. This gemstone would support your way to a bright future.
---
Rhodonite is a gemstone in rose pink. A Greek word that means "rose" is the origin of its color. There are dark pink ones to bright pink ones. Rhodonite with vivid rose color has the best meaning and properties. The price is very expensive because there are many fans of high-quality Rhodonite. However, beautiful Rhodonite is truly valuable, so it will definitely worth its price. If you find one luckily, it is better to get one.
---
Rhodonite is used for a meaning and properties or growing your mind. It would bring the owner to a higher level and get the real toughness. This gemstone would increase your self-confidence and support your life become richer. Rhodonite also has a meaning of helping. Of course it means a help for the owner, but it also means you can help others. You can't give power to other people if you aren't strong enough. We can say that Rhodonite is a gemstone that teaches us what a real help is.
Chakra Chart of Rhodonite
9th Heaven Chakra
[God]

8th Air Chakra
[Cloud]

7th Crown Chakra
[Soul]

6th Third Eye Chakra
[Wisdom]

5th Throat Chakra
[Voice]

4th Heart Chakra
[Love]

3rd Solar Plexus Chakra
[Light]

2nd Sacral Chakra
[Guts]

Rhodonite
[Life] Life Energy

0th Earth Chakra
[Person]
Rhodonite Data
Chemical formula
(Mn,Ca)Mn4[Si5O15]
Mohs scale
6
Specific gravity
3.40-3.70
Production
Australia
Russia
Brazil
Combination

+ Amethyst
Feel opportunities for success
Author Hayasaka Yoshino

Hayasaka Yoshino is a stone healer that usually works in Tokyo area, Japan. Yoshino is also famous as a fortune teller and seen over 10,000 people. "Fortune-telling counseling", which finds out the best gemstone for the client, received a high reputation. Representative director of LWE Co., Ltd.
Other Gemstone Recommendation