Ametrine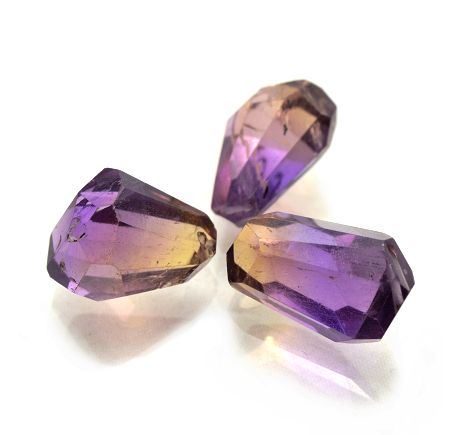 Love and Relationships

[1]

Encounter a sincere partner


[2]

Build a well-balanced relationship


[3]

Make a deal success


[4]

Stabilize a relationship between two people


[5]

Find a good match

Money and Business

[1]

Encourage calm judgement


[2]

Keep in top form


[3]

Become a better negotiator


[4]

Stay motivated


[5]

Finally hit the target

Other Energy

[1]

Balance things


[2]

Charge your vitality


[3]

Build inner power


[4]

Heal the soul deeply


[5]

Remain calm

The meaning of Ametrine is inner strength. Ametrine is a variety of quartz crystal, amplifying the energy of its owner. The color of this gemstone is a mixture of the yellow color of Citrine blended with the purple color of Amethyst.
---
It is considered that Citrine has masculine energies and Amethyst has female energies, which makes this gemstone balance masculine and female energies. The meaning of Ametrine also includes harmony. If you want to achieve harmony between the spirit, mind and body, try this gemstone. Ametrine helps to tone down your energy when it is excessive and to strengthen your energy when it is weakened. If you want to keep your body and mind in the best condition, Ametrine is for you.
---
The harmonious energy of Ametrine heals the mind and soul of its owner. The meaning of this gemstone also has its healing properties. If you tend to be emotionally unstable or feel stressed, try its therapeutic effects.
---
Ametrine has both Yin and Yang energies, so that it is useful when you need to take either the initiative or a wait-and-see approach. Ametrine helps you to challenge if you need to win and it protects you when you need the presence of mind. If you need to use diplomacy, Ametrine will support you. If you need to negotiate or win the game of love, Ametrine is for you. Ametrine is useful if you are a self-employed, handling all the business transactions, including planning and sales. If you are a free-lancer or manage your own company, Ametrine will help you succeed.
---
Each Ametrine differs in the color composition of yellow and purple. Some are 70% yellow and 30% purple. Some are 10% yellow and 90% purple. The color combination of 50% yellow and 50% purple is very rare. The fifty-fifty design is a high-priced gemstone. Though the beautiful patterns are expensive, you can get stronger effects. If you focus on its effects, choose the beautiful patterns. Ametrine is in higher demand, so that it is harder to find right away even when you prepare a budget. When you find Ametrine you like, ask the shop to keep it aside for you. It could be sold out the next day.
---
The yellow quartz has the meaning of creativity and vitality. And the purple quartz has the meaning of intuition and inner strength. You can apply these meanings to the stone patterns. If you need positive powers, choose Ametrine with more yellow in color. If you need protection and presence of mind, choose Ametrine with more purple in color. When you can't decide which to choose, ask the shop.
Chakra Chart of Ametrine
9th Heaven Chakra
[God]

8th Air Chakra
[Cloud]

Ametrine - purple
[Soul] Intuition

6th Third Eye Chakra
[Wisdom]

5th Throat Chakra
[Voice]

4th Heart Chakra
[Love]

Ametrine - yellow
[Light] Productivity

2nd Sacral Chakra
[Guts]

1st Root Chakra
[Life]

0th Earth Chakra
[Person]
Ametrine Data
Chemical formula
SiO2
Mohs scale
7
Specific gravity
2.65
Production
Brazil
Uruguay
India
Combination

+ Kunzite
Go back to being yourself
Author Hayasaka Yoshino

Hayasaka Yoshino is a stone healer that usually works in Tokyo area, Japan. Yoshino is also famous as a fortune teller and seen over 10,000 people. "Fortune-telling counseling", which finds out the best gemstone for the client, received a high reputation. Representative director of LWE Co., Ltd.
Other Gemstone Recommendation