Shell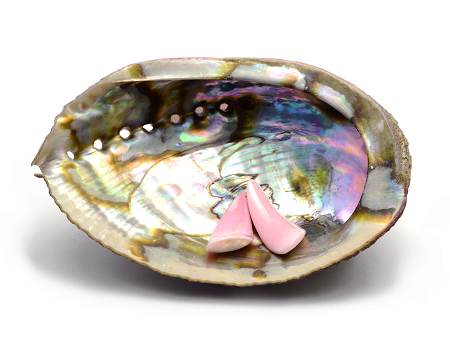 Shell has meaning and properties of enhancing intuition. It can determine good energy and bad energy intuitively. It would help you prevent failure by thinking too much. When you are confused with an important decision, please try the power of Shell.
---
Shell has meaning and properties of enhancing its owner's imagination. It will be an amulet to grab a success with extraordinary image and idea. You would be able to have great idea that can touch many people's heart. It is good for all people who are involved in creation or development.
---
Shell has meaning and properties of increasing numbers of supporters or associates. It is an amulet to solve problems that are difficult to deal only by yourself. It would be useful to make an outcome in a team. Shell also has the power to gather people. It is an amulet to make you have an ability for a leader. It is also useful when you want to prevent estrangement or a split.
---
There are several kinds of Shell. Some of the famous kinds of Shell are below.
- Mother of Pearl
- Abalone Shell
- Queen Conch Shell
- White Shell
All of them have basic meaning and properties of Shell. Please choose the one with color or pattern that you prefer.
---
Shell is one of the famous amulets. You will find some by visiting a few gemstone shops. It has many kinds of colors such as white, black, pink, brown, green, blue, red, or yellow. White, pink, and black are the popular colors. It is also often dyed, so you can have almost any color you like.
---
Shell is often made into accessories. You can have bracelets, necklaces, and earrings. Shell with a beautiful pattern can be used for an ornament. Abalone Shell with rainbow shine is very popular. The price is often fairly reasonable. It is supported by many people since it is an easy amulet to try.
---
Shell has meaning and properties of purifying its owner's energy. It is an amulet that can clearly purify excessive evil spirits or evil thoughts. It would improve negative body condition. It would change your body so that you can bring in more positive energy.
---
Shell has meaning and properties of preventing trouble related to water. It is a familiar amulet that comes from ocean. It is popular among people who have jobs related to water such as firefighters, maritime safety officials, water utility mechanics, cooks, fishers, or professional divers. It is also popular as an amulet for traveling overseas or sea trips.

Chakra Chart of Shell
White Shell
[God] Creativity

Gray Shell
[Cloud] Application

Purple Shell
[Soul] Intuition

Blue Shell
[Wisdom] Thinking Ability

Blue Shell
[Voice] Expression

Green Shell
[Love] Tolerance

Yellow Shell
[Light] Productivity

Brown Shell
[Guts] execution power

Pink Shell
[Beauty] attractiveness

Black Shell
[Person] Will Power
Author Hayasaka Yoshino

Hayasaka Yoshino is a stone healer that usually works in Tokyo area, Japan. Yoshino is also famous as a fortune teller and seen over 10,000 people. "Fortune-telling counseling", which finds out the best gemstone for the client, received a high reputation. Representative director of LWE Co., Ltd.
Other Gemstone Recommendation