Kyanite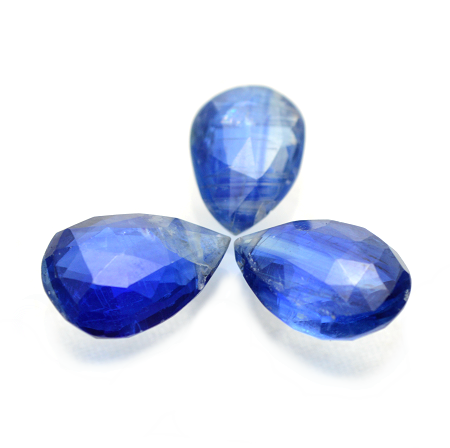 Love and Relationships

[1]

Do not miss the chance of romance


[2]

Make a deal success


[3]

Build the best relationship


[4]

Reconcile with another


[5]

Break away from the past

Money and Business

[1]

Increase intuition


[2]

Increase execution


[3]

Change a pinch into an opportunity


[4]

Improve thinking ability


[5]

Keep in top form

Other Energy

[1]

Strengthen the soul


[2]

Enhance vibration waves


[3]

Calm emotions


[4]

Receive messages from heaven


[5]

Adjustment of energy balance

Kyanite is a gemstone that has a meaning and properties of strengthening people's mind and soul. The deep blue color of Kyanite has been believed that it can help develop mentality. It also can settle down people's feelings and clear away feelings that lack harmony.
---
There many color variations of Kyanite, but the blue one is the most famous. If it is your first time to have Kyanite, please try from the blue one. The blue one has the best power balance and it is easier to handle.
---
Kyanite has a meaning and properties of arranging the owner's energy neatly. Our energy could get disordered as we live our daily life. Kyanite would help you keep your energy in a good condition. People get tired when they used too much energy or the energy flow did not work well. Kyanite can help you how to adjust your energy effectively.
---
There is a healing meaning and properties in Kyanite. It is famous for a powerful healing gemstone and there is a lot of good energy in it. If you want to feel high wave motion, please try having Kyanite.
---
Kyanite is a gemstone that can help you concentrate mentally. When you want to receive energy from this gemstone, hold it in your hand and adjust your breathing. You would feel great energy from the gemstone when you close your eyes. Please use it when you want to straighten your mental balance or concentrate well.
---
The meaning and properties of Kyanite can change the negative energy into positive energy. Please try using this gemstone if you want to change your luck. Kyanite is a gemstone that can change unbalanced energy into good energy. Its power is gentle and kind.
---
Kyanite also has a power to enhance your intuition. It is famous for increasing the owner's hidden spiritual energy. By enhancing your sense, it will be useful to receive better energy. If you want to have energy to relieve trauma or energy to step forward, please try having Kyanite. It is also good when you feel tired easily or feel like losing your energy. It would give the owner bright and positive energy.
---
Kyanite has a meaning and properties of achieving a dream or a goal. It would enhance your power of expression and help you take actions to make things true. This gemstone can boost your thinking ability and give you the power to act strategically. We need adequate energy and mental power to make dreams come true. Kyanite is a gemstone that will support your success.
Chakra Chart of Kunzite
White Kunzite
[God] Creativity

8th Air Chakra
[Cloud]

7th Crown Chakra
[Soul]

Blue Kunzite
[Wisdom] Thinking Ability

5th Throat Chakra
[Voice]

Green Kunzite
[Love] Tolerance

3rd Solar Plexus Chakra
[Light]

2nd Sacral Chakra
[Guts]

1st Root Chakra
[Life]

Black Kunzite
[Person] Will Power
Kyanite Data
Chemical formula
Al2[O | SiO4]
Mohs scale
4-7.5
Specific gravity
3.53-3.68
Production
Brazil
Kenya
India
Combination

+ Sapphire
Get results with work or study
Author Hayasaka Yoshino

Hayasaka Yoshino is a stone healer that usually works in Tokyo area, Japan. Yoshino is also famous as a fortune teller and seen over 10,000 people. "Fortune-telling counseling", which finds out the best gemstone for the client, received a high reputation. Representative director of LWE Co., Ltd.
Other Gemstone Recommendation