Green Tourmaline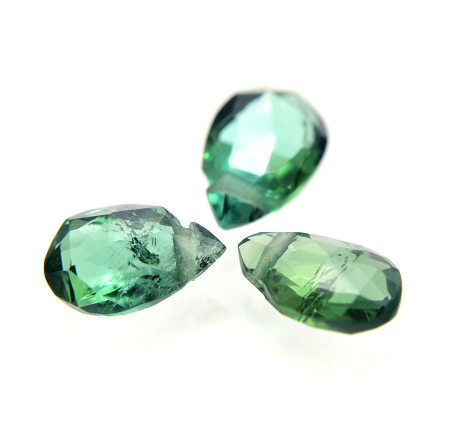 Love and Relationships

[1]

Build strong bonds


[2]

Distinguish the feelings of another


[3]

Know the pleasure of love


[4]

Strengthen trust


[5]

Attract a good match

Money and Business

[1]

Make yourself confident


[2]

Acquire a social position


[3]

Restore vitality


[4]

Increase insight


[5]

Grasp the contract

Other Energy

[1]

Improve happiness


[2]

Strengthen your mind from its core


[3]

Eliminate energy shortage


[4]

Exhaust negative energy


[5]

Heal your soul

Green Tourmaline is a gemstone that has a meaning and properties of happiness. It will give you pleasure and a sense of happiness that is needed to live. This gemstone would support your heart and soul gently.
---
The green of Green Tourmaline is the symbol of the Earth. It is known as a gemstone that has nature energy of forest in it. Green Tourmaline has a meaning and properties of synchronizing with the energy of the Earth. You may benefit a lot by sympathizing with the Earth energy. It is good for people who want to have confidence or be in a good social position. Green Tourmaline would help you become more positive and make your mind stronger.
---
Green Tourmaline has very powerful meaning and properties of healing. Since it has big nature power inside, people have believed that it has the power of regeneration. If you feel like lacking energy or want to have vital power, please try using Green Tourmaline.
---
There are many color variations of Green Tourmaline. Some will be as light as clear mint green, and some will be almost as dark as black. The clearer ones with nice green color are the high quality ones. Green Tourmaline with high quality would have more powerful meaning and properties. There is not a lot of Green Tourmaline in the market, so it would be hard to find the high quality one. If you find good Green Tourmaline, please consider about getting one. It would be more experience compared to other gemstones, so you will need a certain amount of budget.
---
Green Tourmaline has a meaning of making the owner's mind and soul stronger. Although it is a healing gemstone, it also has strong power at the same time. This gemstone has the positive energy. We can say that it is a very powerful healing gemstone. Green Tourmaline will nurture thoughtfulness. By enhancing your sympathies, the energy of love will become stronger. It is also good for people who want to calm down. The healing energy of Green Tourmaline would help you remove the negatives from you.
---
Green Tourmaline is used in the meaning of improving insights. It is famous for its power of sensing what is in other people's mind. This gemstone is useful when you want to know the thoughts of the one you love, or make the relationship better. Green Tourmaline can strengthen the bonds and enhance the relationship of trust. If you want to cherish relationships between others or want to have mates, this gemstone is the good one for you.
Chakra Chart of Green Tourmaline
9th Heaven Chakra
[God]

8th Air Chakra
[Cloud]

7th Crown Chakra
[Soul]

6th Third Eye Chakra
[Wisdom]

5th Throat Chakra
[Voice]

Green Tourmaline
[Love] Tolerance

3rd Solar Plexus Chakra
[Light]

2nd Sacral Chakra
[Guts]

1st Root Chakra
[Life]

0th Earth Chakra
[Person]
Green Tourmaline Data
Chemical formula
AB3C6[X3Y | (BO3)3 | Si6 O18
Mohs scale
7-7.5
Specific gravity
3.03-3.31
Production
Brazil
United States
Tanzania
Combination

+ Prehnite
Prevent fluctuations in the mind
Author Hayasaka Yoshino

Hayasaka Yoshino is a stone healer that usually works in Tokyo area, Japan. Yoshino is also famous as a fortune teller and seen over 10,000 people. "Fortune-telling counseling", which finds out the best gemstone for the client, received a high reputation. Representative director of LWE Co., Ltd.
Other Gemstone Recommendation