Shell Agate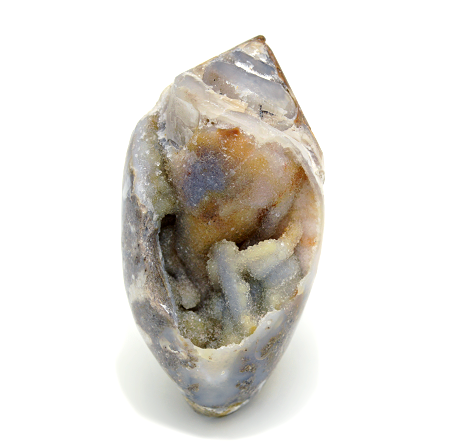 Shell Agate has the meaning and properties to heal the injured heart. It is a gemstone to hold a strong healing energy. You can get a clue to improve the uneasy situation. You will also get the power to prevent your heart from being hurt again. It is a charm to simultaneously perform "healing" and "reinforcement" of the mind.
---
Shell Agate has the meaning and properties to open up dormant potentials. It is a gemstone to eliminate "inadequacy" or "unsatisfying situation". It will make full use of the original ability. It is also effective when you want to change evaluation from the surroundings completely.
---
Shell Agate has the meaning and properties to make mind free. It is a gemstone to stop useless patience. It will make you dive into "favorite things" or "what you are good at" in a focused way. Please use it when you want to succeed comfortably.
---
Shell Agate is classified as "fossil shellfish". Unlike common "fossil shellfish", you can check and see the "Agate" part. "Agate" will be visible inside the shell. It is hard to see that when the shell shape is beautifully left. If the shell has a little missing part in its shape, "Agate" part will be easy to see. It is a useful item that "shell" and "Agate" power is available at the same time.
---
Shell Agate is a fossil born under special conditions. When fossilizing, the ingredient of "Quartz" penetrates into the shell and this is born. This ingredient is called "Silicic acid". Silicic acid takes a long time to change to "Chalcedony". "Chalcedony" is a variant of "Quartz". Crystals of small Quartz gather and birth "Chalcedony". Then, if a striped pattern appears on "Chalcedony", it will become "Agate".
---
The distribution volume of Shell Agate is very small. It is rare stone which is rarely sold. If you need it, please search for "a gemstone shop that is strong in rare stones" or "fossil specialty store". As it is a rare stone, the price is more expensive than normal gemstone.
---
Shell Agate has the meaning and properties to supplement deficient energy. It is a gemstone to revive strong "energy" and "passion". It is also recommended when you want "action power" or "execution power". You will get a chance to break the stagnant situation.
---
Shell Agate has the meaning and properties to change the way of thinking. It is a gemstone to prevent you from being restricted by old "information" and "technology". It will let you switch your ability to the latest version. It will help to widen the possibilities of the future.
Chakra Chart of Shell Agate
9th Heaven Chakra
[God]

Gray Shell Agate
[Cloud] Application

7th Crown Chakra
[Soul]

6th Third Eye Chakra
[Wisdom]

5th Throat Chakra
[Voice]

4th Heart Chakra
[Love]

3rd Solar Plexus Chakra
[Light]

Brown Shell Agate
[Guts] execution power

1st Root Chakra
[Life]

0th Earth Chakra
[Person]
Author Hayasaka Yoshino

Hayasaka Yoshino is a stone healer that usually works in Tokyo area, Japan. Yoshino is also famous as a fortune teller and seen over 10,000 people. "Fortune-telling counseling", which finds out the best gemstone for the client, received a high reputation. Representative director of LWE Co., Ltd.
Other Gemstone Recommendation