Fluorite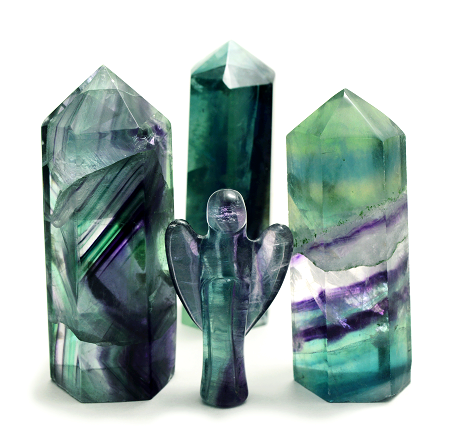 Love and Relationships

[1]

Smooth communication


[2]

Draw out the charm of the owner


[3]

Make the relationship progress smoothly


[4]

Take back honest emotions


[5]

Make a deal success

Money and Business

[1]

Demonstrate personality


[2]

Increase ideas


[3]

Gather necessary information


[4]

Flexibility up


[5]

Assume the future correctly

Other Energy

[1]

Get an inspiration


[2]

Strengthen inner strength


[3]

Know the purpose of life


[4]

Cast aside your doubts


[5]

Improve the flow of luck

Fluorite is a gemstone that has a meaning and properties of making your mind calm. It has been told that it can clear off your anxiety or stress. This gemstone is good to use when you are stressed out. Fluorite would also clarify your vision of the future. People believed that it would get rid of mind fog. This is the right gemstone if you want to have hope for the future.
---
Fluorite can strengthen your mental power by its meaning. From the ancient times, it has been valued as a gemstone that can make the soul near the heart stronger. Fluorite is not only for strengthening, you can be more positive minded. This gemstone is like a cluster of positive energy. It would develop things positively.
---
Fluorite is a gemstone that will support the owner's independence. It has a meaning of strengthening your will power and developing your personality. When you want to take your actions or enhance your performance, this is the right gemstone for you. Fluorite's meaning would clarify your goals in life. Please try Fluorite when you are a little confused.
---
Fluorite has great variation of colors. There are purple, blue, green, yellow, pink, white, and others. The meaning and properties would change by colors. Choose your gemstone by considering your needs and your favorite color. Green one is the most popular but the other colors are pretty limited. Some colors are very rare and they will be expensive. If you don't have strong preferences, it is better to get a green Fluorite.
---
Fluorite is a gemstone which has been told that people would be able to receive a message from the heavens. It may affect your unconscious mind. This gemstone is good for enhancing your inspiration and intuition. If you want to have the full power of Fluorite, do meditation with Fluorite in your hand. You may receive more energy in a very deep level.
---
Fluorite has a meaning and properties of making communication smooth. It will support you to speak smoothly and fluently. If it is difficult for you to speak out, please try having Fluorite. You would be able to express your words and feelings inside you by its meaning. It is also good for people that are likely to be diffident. Fluorite is a gemstone that can organize and clarify information. It would purify chaotic energy. This gemstone is great if you want to improve your luck.
Chakra Chart of Fluorite
White Fluorite
[God] Creativity

8th Air Chakra
[Cloud]

Purple Fluorite
[Soul] Intuition

Blue Fluorite
[Wisdom] Thinking Ability

Blue Fluorite
[Voice] Expression

Green Fluorite
[Love] Tolerance

Yellow Fluorite
[Light] Productivity

Brown Fluorite
[Guts] execution power

Pink Fluorite
[Beauty] attractiveness

0th Earth Chakra
[Person]
Fluorite Data
Chemical formula
CaF2
Mohs scale
4
Specific gravity
3.18
Production
United Kingdom
United States
Canada
Combination
Author Hayasaka Yoshino

Hayasaka Yoshino is a stone healer that usually works in Tokyo area, Japan. Yoshino is also famous as a fortune teller and seen over 10,000 people. "Fortune-telling counseling", which finds out the best gemstone for the client, received a high reputation. Representative director of LWE Co., Ltd.
Other Gemstone Recommendation