Pink Amethyst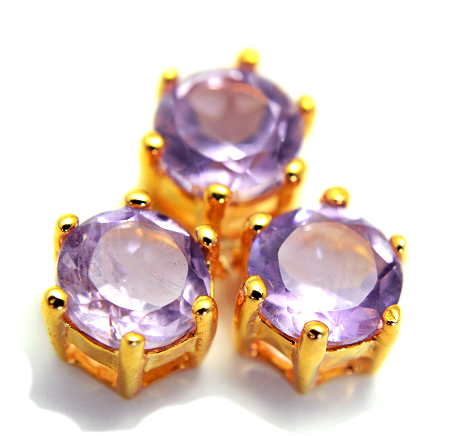 Pink Amethyst has meaning and properties that fills your heart with love. This gemstone has full of gentle love energy and it can reduce various kinds of anxiety and fear. You can have calm and peaceful mind by using it. If you can fill your mind enough, you can change yourself to attract happiness or good relationship. It is also good to use when you need energy to make a step forward.
---
Pink Amethyst is a gemstone that can enhance its owner's intuition. It has the power to see through the good and the bad of things. It would wake your instinctive sense and you can see the essence at a glance. This gemstone can maximize its owner's benefit and exclude disadvantage.
---
Pink Amethyst is useful to keep your energy clean. This gemstone can discharge negative inner energy and emotion from your body. It is also good to use when you want to adjust your rhythm of daily life. If you tend to feel stress every day, please put it by your pillow. The healing energy of Pink Amethyst will work while you are asleep. This gemstone is also useful to prevent nightmares.
---
Pink Amethyst has a color between purple and pink. It looks more like purplish color more than pink. It might be better to say it's an "Amethyst with pinkish color." Amethyst fans can't resist this subtle color. It is Amethyst with cute impression.
---
Pink Amethyst is a rare gemstone that is less in the market. Since its color is very subtle, it will be difficult to find one. If you need the meanings and the properties of Pink Amethyst, please be persistent to find shops that have it. It will be more expensive than regular Amethyst because it is a rare gemstone. The popular types are bracelets, necklaces, and earrings.
---
Pink Amethyst has meaning and properties of enhancing your aesthetic sense. It is a gemstone that understands and expresses the true beauty inside. This power will be beneficial for creative work. Pink Amethyst can also see through the beauty of mind. It will be useful to see if the relationship is good or bad. This gemstone can be used for both finding a life-long partner or negotiation in business.
---
Pink Amethyst has meaning and properties of enhancing your charm as a person. Pure energy of it would refine its owner's aura beautiful. You would be able to have pure and innocent energy. It is a good gemstone for people who get involved with many people or need to be popular.
Chakra Chart of Pink Amethyst
9th Heaven Chakra
[God]

8th Air Chakra
[Cloud]

7th Crown Chakra
[Soul]

6th Third Eye Chakra
[Wisdom]

5th Throat Chakra
[Voice]

4th Heart Chakra
[Love]

3rd Solar Plexus Chakra
[Light]

2nd Sacral Chakra
[Guts]

Pink Amethyst
[Beauty] attractiveness

0th Earth Chakra
[Person]
Author Hayasaka Yoshino

Hayasaka Yoshino is a stone healer that usually works in Tokyo area, Japan. Yoshino is also famous as a fortune teller and seen over 10,000 people. "Fortune-telling counseling", which finds out the best gemstone for the client, received a high reputation. Representative director of LWE Co., Ltd.
Other Gemstone Recommendation