Purifying Effect of White Sage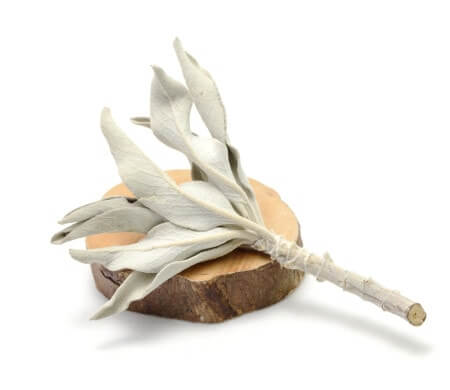 White sage has great purifying effect. It is especially famous for purifying gemstones well. It will remove negative energy in the gemstone. At the same time, it fills positive energy that white sage has to the gemstone. It is a very superior healing item.
How to Use White Sage

Here is the detail of how to use white sage. Please check it to get good purifying effect.

---

<1> Pick one leaf.

Please use it one by one. We use a few leaves when we purify a big gemstone, but only one leaf is usually fine.

---

<2> Set the fire with a lighter.

Set fire to white sage with a lighter or something you can light fire. You will need a plate or a tray to get the ashes, so please prepare beforehand.

---

<3> Put the fire out and make smoke.

Put the fire out by making a wind with your hand. Do not blow out the fire. (Breath has energy and it would obstruct purifying.) If you can make smoke from the part you put the fire out, then it is succeeded. We use this smoke to purify.

---

<4> Put the smoke to the gemstone.

Purify the gemstone by putting the smoke on it. Put the smoke all around the gemstone and purify all the part.

---

<5> Check the smoke by watching it.
Please check how the smoke goes around the gemstone. You can see how much purifying is done.

---

- When the smoke goes around the gemstone thick

Purification is not completed yet. Please put the smoke on the gemstone a little more.

---

- When the smoke goes up naturally

Purification is completed. The energy is also filled enough.

---

<6> Stub out the fire with a branch.

When you have white sage with a branch, stub out the fire with it. It is better to stub out the fire on a tray so the ashes don't scatter around. If you don't have a branch of white sage, disposable chopsticks are fine to use. The method is finished when you checked the fire is completely off.
Purifying Time of White Sage

1 to 3 minutes will be fine if the gemstone is accessory size. It is also acceptable to purify several items at a time. Please put on more smoke in that case.

---

It doesn't mean: longer purifying time = higher purifying effect. A proper amount is good just as human's meals. Please finish your purification in a good length of time.
Frequency of Using White Sage

We recommend using white sage more than once a month. Purifying every day is also fine. Please do it whenever you feel like doing it. It is good to purify when you want to change your feelings or when you want more energy.
About Leftover White Sage

You can use leftover white sage leaves until you burn the whole leaf. The purifying effect won't decrease even if the leaf is not completely new. They are holy leaves, so it is better to use it to the end. (Please be careful of getting burned since the leaf will become shorter as you use.)
Gemstones That Are Not Good to Purify with White Sage

There are several gemstones that are not suitable for purifying with white sage. Please check thoroughly before you do the purification.

---

- Gemstones containing water
Gemstones that contain water, such as Opal, are not good to purifying with white sage. They might crack by getting heated and dried.

---

- Gemstones that change by heat
Don't purify with white sage if the gemstone changes its property by heat, such as Diamond. It might change its color or lose the shine.
Space Purifying of White Sage

White Sage has the effect of purifying the space other than gemstones. It would be nice to purify the space at the same time when you purify gemstones. You can do that by purifying the gemstone at a place you feel like the air is heavy.

---

Please ventilate the room after you finish purifying the space with white sage. You can remove stagnant energy and fill the room with good energy.
Price of White Sage

You can buy white sage for a few tens of dollars. The price will change by grams, so get as much as you need. Some shops might give you a discount when you buy more.

---

The price will vary by the producer because the quality will differ. High-quality ones have beautiful leaves and burn well. (Low-quality ones may have smaller leaves and the fire goes out pretty easily.) High-quality white sage will have better purifying effect.
Shops to Buy White Sage

You can get white sage at gemstone shops. Please ask the nearest gemstone shop if you need one. However, not all shops have white sage. It would be better to check the shop before you go.
Other Gemstone Recommendation