Jasper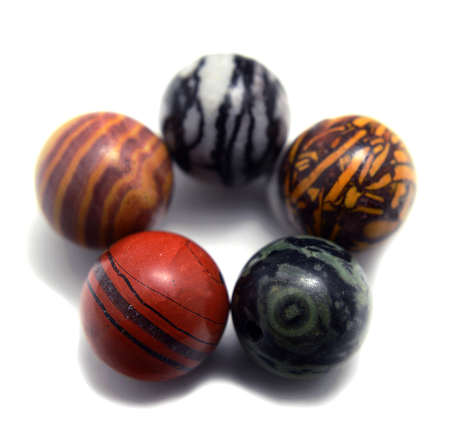 Jasper is a gemstone with meaning and properties of efforts getting rewarded. From ancient times, it has been used as an amulet to enhance mental power and ability to continue. It is used to have the best result. This gemstone will support all people who are working hard for their dreams.
---
Jasper gives you power when you are weak. It is a gemstone that can strengthen the weak point and let you get out from crises. You would be able to have courage and energy to make progress once again. Please use it when you want to solve problems such as discouragement or exhaustion.
---
Jasper has meaning and properties of predicting the future. This gemstone would receive a message from the heavens correctly. You can understand what you need to do and take actions for that. Please use it when you are confused about which way to go.
---
Jasper works as a great amulet. It will avoid danger or attack from outside, and save its owner from various kinds of danger. It is one of the most powerful amulet gemstones and it is highly supported by people. If you need a strong amulet, please try the meanings and the properties of Jasper. It also has the power to sense danger intuitively.
---
Many kinds of Jasper are existing. Red, green, and brown are widely known ones. The names and the power will change by their pattern, the place of production, and components, so please choose the one that fits you. It will be good to choose by your current hope.
---
Jasper is a gemstone that has a natural flavor. It has different appeal compared to gemstones handled as jewelry. If you could find Jasper with your favorite pattern or color, it will definitely be your lifelong treasure. Each Jasper is different because it is a natural gemstone. It is usually sold in bracelets, necklaces, or earrings. Please choose the design that is easy for you to wear daily.
---
Jasper has meaning and properties of balancing offence and defense. It is a gemstone with both boldness and kindness. It would give you courage when you need to fight, and it would recover your energy when you need to defense. We can say that it is an almighty gemstone that can give you power according to the situation. Because of this almighty power, there are many people that use Jasper for a long time.
---
Jasper is a gemstone with meaning and properties of giving a try to new possibilities. It is useful when you want to actualize unique ideas. This gemstone is highly valued by artists and creators. It would add surprise and impression to an artwork or service. It is also effective when you want to get out from a slump.
Chakra Chart of Jasper
White Jasper
[God] Creativity

Gray Jasper
[Cloud] Application

7th Crown Chakra
[Soul]

Blue Jasper
[Wisdom] Thinking Ability

5th Throat Chakra
[Voice]

Green Jasper
[Love] Tolerance

Yellow Jasper
[Light] Productivity

Brown Jasper
[Guts] execution power

Red Jasper
[Life] Life Energy

0th Earth Chakra
[Person]
Author Hayasaka Yoshino

Hayasaka Yoshino is a stone healer that usually works in Tokyo area, Japan. Yoshino is also famous as a fortune teller and seen over 10,000 people. "Fortune-telling counseling", which finds out the best gemstone for the client, received a high reputation. Representative director of LWE Co., Ltd.
Other Gemstone Recommendation