Maw Sit Sit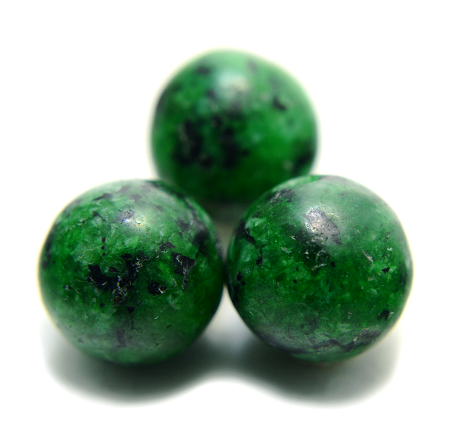 Maw Sit Sit has meaning and properties of getting back vitality and energy. It is a gemstone that can vitalize weaken mind. You would be able to have a support to feel happiness again. It is also known as an amulet to get back hope to live.
---
Maw Sit Sit has meaning and properties of shining its owner's charm. This gemstone can let its owner's aura shine brightly. Shiny aura will attract people around you. Maw Sit Sit is a gemstone that can soften feelings of rejection to others. It would lead you to solve problems that are the cause of loneliness. It can help you attract good relationships that makes your life richer.
---
Maw Sit Sit has meaning and properties of making your thinking positive. It will totally get rid of negative thoughts that becomes the cause of unhappiness. Positive thinking is necessary to create a bright future. It would let you always imagine the vision of success and go closer to that.
---
Maw Sit Sit is a gemstone that is produced in Myanmar, a famous place of production of Jade. It was distributed as a kind of Jade before. Currently, it is handled as a different gemstone with Jade. The main component of Maw Sit Sit is Kosmochlor. Kosmochlor is one kind of components in Jade. It affects the green color of Jade. However, it doesn't mean that Kosmochlor is Jade, so please be careful with that point.
---
The name of Maw Sit Sit came from the Maw Sit Sit Valley in northern Myanmar. It is a rare gemstone that is produced exclusively there. The distribution started from 1990s. It is a relatively new gemstone. Most of the gemstone shops don't sell it. It would be quicker to order in specialty gemstone shops if you need one. Since it is a rare gemstone, it is more expensive than regular gemstones. It looks similar to Aventurine, so please be careful with fake ones. Maw Sit Sit is never sold in low price.
---
Maw Sit Sit has meaning and properties of making joy to life. This gemstone can make you become a professional of having fun which is fundamental to fulfilling life. It is good to use when you want to improve suffocating life. Please try using it before your desire explodes and be out of control. What are joy and pleasure? This gemstone will let you check the answer again.
---
Maw Sit Sit has meaning and properties of making good relationship. This gemstone would help you meet a good person to get married or a good business partner. It is also known as a gemstone that supports fateful encounter. You can draw in good relationship that will make your life meaningful.
Chakra Chart of Maw Sit Sit
9th Heaven Chakra
[God]

8th Air Chakra
[Cloud]

7th Crown Chakra
[Soul]

6th Third Eye Chakra
[Wisdom]

5th Throat Chakra
[Voice]

Maw Sit Sit
[Love] Tolerance

3rd Solar Plexus Chakra
[Light]

2nd Sacral Chakra
[Guts]

1st Root Chakra
[Life]

0th Earth Chakra
[Person]
Author Hayasaka Yoshino

Hayasaka Yoshino is a stone healer that usually works in Tokyo area, Japan. Yoshino is also famous as a fortune teller and seen over 10,000 people. "Fortune-telling counseling", which finds out the best gemstone for the client, received a high reputation. Representative director of LWE Co., Ltd.
Other Gemstone Recommendation