Marcasite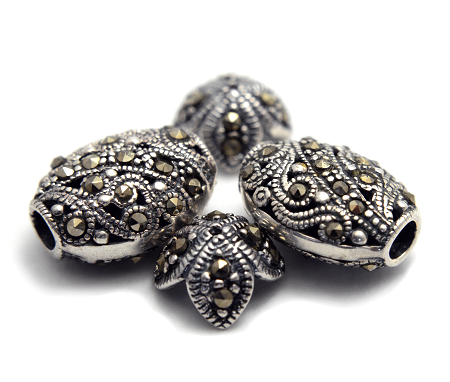 Love and Relationships

[1]

Positive love affair


[2]

Strengthen ties


[3]

Build a peaceful relationship


[4]

Gain confidence in yourself


[5]

Heal wounds of love affairs

Money and Business

[1]

Clarify a future vision


[2]

Give necessary information


[3]

Increase analytical power


[4]

Grasp your ability correctly


[5]

Support goal achievement

Other Energy

[1]

Strengthen intentions


[2]

Strengthen self-esteem


[3]

Lead to the correct answer


[4]

Keep the soul clean


[5]

Resolve complexity

Marcasite is a gemstone with a meaning and properties of strengthening your mental power. It has been believed that there is power to gain strength to achieve people's goals. Please use this gemstone as a good lucky charm that supports your dreams come true. Marcasite also has a meaning and properties of making your future vision clear. It would give you the power and information that are needed to predict the future.
---
Marcasite has a meaning and properties of getting rid of your complex. It is known for its power to heal hurt feelings or mistakes. If the past memory or experience is still painful, please try the power of Marcasite. You can have a support to increase your self-esteem and accept your past correctly. This gemstone is also effective if you sometimes hurt yourself or feel like your self-esteem is low.
---
Marcasite is a gemstone that has a meaning and properties of increasing the owner's analytical skill. It has been known for its power to make vague information clear. Please try using Marcasite if you are working in the field of research or development. It is also good when you need to handle figures or data, or work on marketing. This gemstone would help you analyze information precisely and reach the best conclusion.
---
Marcasite has a meaning and properties of increasing the owner's self-confidence. From ancient times, people believed that it has the power to balance feelings. It can return negative energy such as anxiety, fear, or sadness, to the earth. You can be self-confident by keeping your mind and soul clear. It is useful when you sometimes lose control of yourself or have low self-esteem. This gemstone is good to have when you want to face yourself correctly.
---
Marcasite is a brass-colored gemstone. It looks like a natural stone called "Pyrite." Marcasite and Pyrite has been considered as a same mineral for a long time. The one with low temperature and high alkaline is Marcasite. Pyrite is the one with high temperature and high acid. Marcasite and Pyrite have different meanings, so please choose the one you need.
---
There are not many stores that have Marcasite. Most of the stores don't have it, so it is better to check before you go. There should be some if the storekeeper is a gemstone lover. If the shop is in department stores, it is more likely not to have one. Marcasite is usually sold as bracelets or necklaces. Please choose the type that is easier for you to wear.
Chakra Chart of Marcasite
9th Heaven Chakra
[God]

8th Air Chakra
[Cloud]

7th Crown Chakra
[Soul]

6th Third Eye Chakra
[Wisdom]

5th Throat Chakra
[Voice]

4th Heart Chakra
[Love]

Marcasite
[Light] Productivity

2nd Sacral Chakra
[Guts]

1st Root Chakra
[Life]

0th Earth Chakra
[Person]
Marcasite Data
Chemical formula
FeS2
Mohs scale
6
Specific gravity
4.90-5.05
Production
Peru
Spain
Italy
Combination
Author Hayasaka Yoshino

Hayasaka Yoshino is a stone healer that usually works in Tokyo area, Japan. Yoshino is also famous as a fortune teller and seen over 10,000 people. "Fortune-telling counseling", which finds out the best gemstone for the client, received a high reputation. Representative director of LWE Co., Ltd.
Other Gemstone Recommendation