Riverstone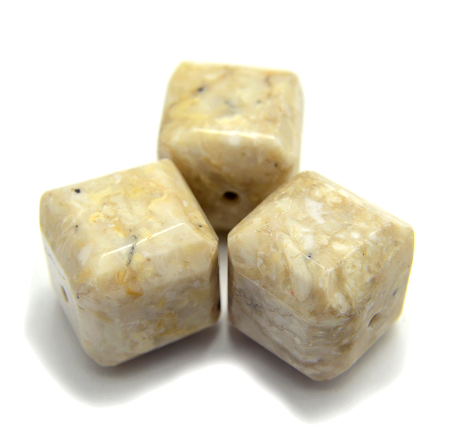 Love and Relationships

[1]

Positive love affair


[2]

Stabilize a relationship between two people


[3]

Reconsider each other's thoughts


[4]

Draw out the original charm


[5]

Activate interaction

Money and Business

[1]

Improve ability


[2]

Help to organize information


[3]

Perform well when it counts


[4]

Release the pressure


[5]

Supports desired achievement

Other Energy

[1]

Purify energy


[2]

Increase willpower


[3]

Improve luck


[4]

Heal the mind deeply


[5]

Get freedom

Riverstone is a gemstone that has a meaning and properties of improving the energy flow. It has been loved by people as a gemstone to improve luck. Please use it when you feel sluggish. Riverstone is a useful gemstone to increase the owner's skills. By clearing clogging of energy, you may be able to show your real ability. It is a good gemstone to use when you want to express all the skills on a performance.
---
Riverstone also has a meaning and properties of purifying energy. Great healing energy would heal you from the top of your head to the tip of your toes. It has been told that it would thoroughly heal deep inside you. Riverstone can relieve anxiety, fear, and sadness hidden at the bottom of your heart. Please use it for maintenance of your feelings and mind.
---
Riverstone is a gemstone that has a meaning and properties of making the owner's mind positive. People believed that they can take actions lively by releasing unconscious energy. Riverstone is also used when people have the feeling of being locked up. It is known as a gemstone to relieve pressure or stress. If you feel like you have too much responsibility, please try the meaning and properties of Riverstone. We can say that it is a gemstone to get freedom of mind.
---
Riverstone is a market name of Marble. It is usually called Marble for building materials and Riverstone for accessories. Both have the same meanings and effects. It is very effective to use Marble for your home or your office. By using Marble for floors or walls, you would be able to receive the power every day. Marble is used in ancient shrines, too.
---
The color of Riverstone differs by its place of production. Meanings and effects won't change even though the colors are different. There are white, brown, and yellowish-brown, and they all have beautiful gloss. Please choose the color you like. There aren't many stores that have Riverstone. Please visit several specialty stores if you need one. It might be better just to order. We can wear it as bracelets or necklaces.
---
Riverstone is a gemstone that has a meaning and properties of enhancing the owner's will power. You would be able to organize your mind and clarify what you need to do. Please use it when you have too much work or too many tasks. It would help you from confusion and help you achieve your goal. Riverstone is good to use when you want to protect yourself from unstable emotion.
Chakra Chart of Riverstone
White Riverstone
[God] Creativity

8th Air Chakra
[Cloud]

7th Crown Chakra
[Soul]

6th Third Eye Chakra
[Wisdom]

5th Throat Chakra
[Voice]

4th Heart Chakra
[Love]

3rd Solar Plexus Chakra
[Light]

Brown Riverstone
[Guts] execution power

1st Root Chakra
[Life]

0th Earth Chakra
[Person]
| | |
| --- | --- |
| | Riverstone Data |
| Chemical formula | CaCO3 |
Combination

+ Jade
Enrich human relations

+ Eye Agate
Accomplish the purpose to the end
Author Hayasaka Yoshino

Hayasaka Yoshino is a stone healer that usually works in Tokyo area, Japan. Yoshino is also famous as a fortune teller and seen over 10,000 people. "Fortune-telling counseling", which finds out the best gemstone for the client, received a high reputation. Representative director of LWE Co., Ltd.
Other Gemstone Recommendation