Larimar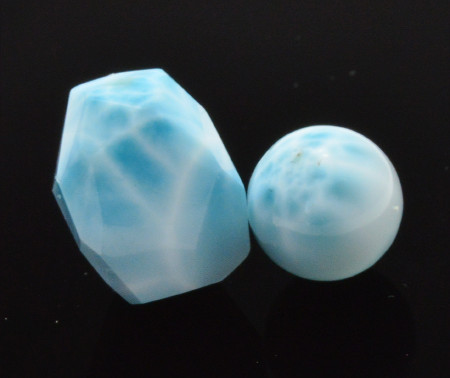 Love and Relationships

[1]

Attract a good match


[2]

Draw out the original charm


[3]

Shrink the distance between two people


[4]

Heal the wounds of your mind


[5]

Get a sense of unity

Money and Business

[1]

Find a job that suits you


[2]

Increase planning skills


[3]

Communication ability up


[4]

Remain calm


[5]

Broaden your connections

Other Energy

[1]

Heal and stabilize energy


[2]

Deal flexibly


[3]

Pardon people rightly


[4]

Successfully start over in a relationship


[5]

Stabilize luck

Larimar is a gemstone that has a meaning and properties of making the energy flow smooth. It is especially good for human relationships. If you want to improve your communication skill or want to have more chance to meet people, this is the right gemstone.
---
Larimar is a gemstone that makes the energy around your throat smooth. This gemstone has been told that there is a Goddess of water in it, and it can enhance your communication skill or flexibility. The Goddess of water is a symbol of healing.
---
The meaning and properties of Larimar can heal the owner's mind and calm down their feelings. If you get stressed out easily, please try having Larimar. It would make your energy flow better and put you back in the right position.
---
Larimar has a meaning and properties of making the owner's feeling brighter. It will make your energy flow better so that you can receive positive energy. If you want to rearrange your mind or want to make your wishes clear, this is a good gemstone to have. It is used when you are more likely to refuse others or get upset easily. Larimar can help you relieve your trauma in the past. It may gently heal your painful memories or negative feelings. Larimar is famous for its great healing meaning and properties.
---
Larimar is only produced in Dominican Republic, an island country in Caribbean Sea. The mineral name of it is "Blue Pectolite." Pectolites produced in other countries won't be called Larimar. Larimar is a gemstone of vivid light blue with white patterns. This romantic pattern is highly valued. People say there is a Goddess of water inside because this pattern looks like beautiful waves of Caribbean Sea. Larimars of the highest quality have beautiful color and clear wave patterns. High-quality Larimar is very popular for its strong meaning and properties. The price is getting higher and higher since the production amount is decreasing recently. If you want to have a good Larimar, it is better to get it soon.
---
The special pattern of Larimar represents the harmony of the sky and the sea. This gemstone is good for healing your heart and stabilizing your luck. Healers around the world praise this meaning and properties or Larimar. This calm energy will help you relieve your stress. It is also effective when you want to forgive someone or relieve sadness.
---
If your feelings are hurt very badly, it is good to do meditation with Larimar near your heart. It may ease negative energy or clear it off. This way is also effective when you want to settle down your feelings. Please use Larimar when you have any kinds of anger, anxiety, or sadness. The ones that you can carry around would be convenient so you can use it anywhere.
Chakra Chart of Larimar
9th Heaven Chakra
[God]

8th Air Chakra
[Cloud]

7th Crown Chakra
[Soul]

6th Third Eye Chakra
[Wisdom]

Larimar
[Voice] Expression

4th Heart Chakra
[Love]

3rd Solar Plexus Chakra
[Light]

2nd Sacral Chakra
[Guts]

1st Root Chakra
[Life]

0th Earth Chakra
[Person]
| | |
| --- | --- |
| | Larimar Data |
| Chemical formula | NaCa2[Si3O8OH] |
| Mohs scale | 4.5-5 |
| Specific gravity | 2.74-2.88 |
| Production | Dominican Republic |
Combination

+ Howlite
Convert negative to positive
Author Hayasaka Yoshino

Hayasaka Yoshino is a stone healer that usually works in Tokyo area, Japan. Yoshino is also famous as a fortune teller and seen over 10,000 people. "Fortune-telling counseling", which finds out the best gemstone for the client, received a high reputation. Representative director of LWE Co., Ltd.
Other Gemstone Recommendation