Blue Lace Agate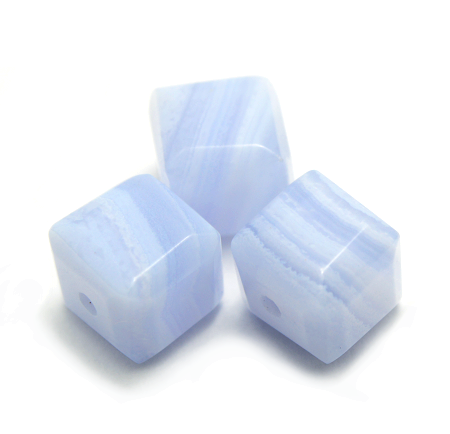 Love and Relationships

[1]

Attract a good match


[2]

Have a mutual love for one another


[3]

Improve confidence


[4]

Advance the relationship one step at a time


[5]

Draw out the charm of the owner

Money and Business

[1]

Get an idea for success


[2]

Make transactions smooth


[3]

Deepen expertise


[4]

Increase the ability for expression


[5]

Remain calm

Other Energy

[1]

Improve the flow of luck


[2]

Take you into peace


[3]

Clear the field of view


[4]

Keep positive


[5]

Clear up the aura of the owner

The meaning of Blue lace agate is smooth flow of the fortune. It is also said to give best advices to you from the higher realms. It is a popular gemstone to teach you useful advices and information for success. It is also known as a healing gemstone.
---
The meaning of Blue lace agate also includes stress-reliever. Blue lace agate stone has a gentle power in it. The gemstone calms you down and balances your energy. Blue lace agate energizes throat chakra. This property is useful for smooth relationships.
---
Its blue lacy pattern calms your emotions and flows your energy. This property can also apply to communication skills. If you want to express your thinking and emotions to somebody, try wearing Blue lace agate.
---
Blue lace agate is a quiet stone rather than a dynamic stone. The gemstone has a gentle power in it so it's suitable for beginners. Though Blue lace agate is gentle to use, it has good meanings and benefits. You will be well supported by the gemstone.
---
It has been believed that Blue lace agate can give you lots of useful information once you connect with the stone. Once you feel the good flow coming in, make sure to receive the messages. Receiving the messages from Blue lace agate and going with the flow lead to self-confidence.
---
The meaning of Blue lace agate also includes clear thinking. It is also used to be confident in your own thinking. The gemstone changes the negative flow into the positive flow and harmonizes your emotions. If you need to be healed and calm down, Blue lace agate is a best gemstone. The gemstone is also said to keep your aura clean and beautiful. If you want to keep positive, try wearing it with you.
---
Blue lace agate is widely distributed in the market but the stones in good quality are getting harder to find. If you want to obtain Blue lace agate with beautiful lacy patterns, do not postpone the purchase. It is said that Blue lace agate with more beautiful lacy patterns has more powerful meanings and benefits. If you find the gemstone in a good quality, it's worth obtaining it. No two stones have the same lacy patterns due to the natural stones. If you find your favorite Blue lace agate, it will be a treasure of your lifetime.
Chakra Chart of Blue Lace Agate
9th Heaven Chakra
[God]

8th Air Chakra
[Cloud]

7th Crown Chakra
[Soul]

6th Third Eye Chakra
[Wisdom]

Blue Lace Agate
[Voice] Expression

4th Heart Chakra
[Love]

3rd Solar Plexus Chakra
[Light]

2nd Sacral Chakra
[Guts]

1st Root Chakra
[Life]

0th Earth Chakra
[Person]
Blue Lace Agate Data
Chemical formula
SiO2
Mohs scale
7
Specific gravity
2.57-2.64
Production
Brazil
Uruguay
Greece
Combination

+ Jade
Prevent relationship troubles

+ Angelite
Get the latest information you need
Author Hayasaka Yoshino

Hayasaka Yoshino is a stone healer that usually works in Tokyo area, Japan. Yoshino is also famous as a fortune teller and seen over 10,000 people. "Fortune-telling counseling", which finds out the best gemstone for the client, received a high reputation. Representative director of LWE Co., Ltd.
Other Gemstone Recommendation