Jade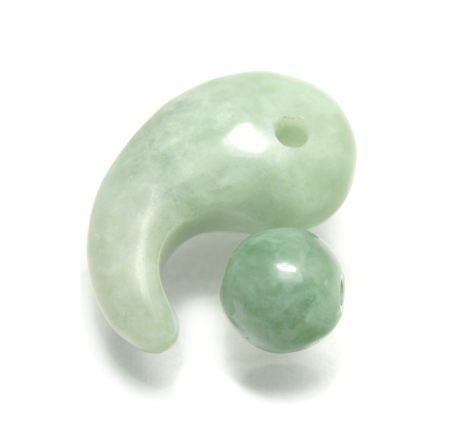 Love and Relationships

[1]

Get a lifetime partner


[2]

Tie a bond


[3]

Build a peaceful relationship


[4]

Enrich affection


[5]

Solve family problems

Money and Business

[1]

Make business negotiations successful


[2]

Judge things calmly


[3]

Increase leadership


[4]

Broaden your connections


[5]

Increase assets

Other Energy

[1]

Balance of body and mind


[2]

Helping organize emotions


[3]

Talisman against evil


[4]

Build inner power


[5]

Descendants prosper

Jade has a meaning and properties of balancing the owner's energy. This gemstone has a very peaceful and gentle energy in it. From ancient times, it has been treasured as a special gemstone. Many Jades are found from ruins in Japan too. This gemstone is still loved by people in the modern times.
---
Jade is a gemstone that has a meaning and properties of making your mind stronger. It has been used for prayers or rituals from the old times. People believed that it has a power to strengthen their mind and soul. Jade will work effectively when you want to have calm and strong mind. Please use it when you are in a stressful situation or when you want to stay calm.
---
Jade has a meaning and properties of enhancing your intelligence. The owner's conscious level can go up several steps. You may be able to keep yourself calm when you see things. This gemstone is useful when you want to organize your thoughts. Please try having Jade if you have to do a lot of brain work.
---
The energy of Jade is absolute in all purposes. Love luck, work luck, or health luck, this gemstone will work for all of them. It will also be effective for overall luck. Because of its versatile meaning, it is popular among men and women of all ages. Jade was loved by the aristocracy and the royal family from long time ago. This gemstone was regarded as a symbol of wealth and success. Since Jade can raise all kinds of luck, it has been valued greatly until today. It is a gemstone that is both popular and capable.
---
There are two types of Jade: nephrite and jadeite. Generally, jadeite is more popular. The other one can be called "Nephrite" more than Jade. Both are powerful gemstones, so please use them on your choice. The more beautiful the color is, the more expensive it becomes. Jade of the finest quality can be pricier than Ruby or Sapphire. Please consider which one to get depending on your budget. There are several colors of Jade. Other than green ones, yellow, purple, black and white ones are available. The meaning will change by its color, so please choose the one you need.
---
Jade is a gemstone that has a meaning and properties of protecting the owner from evil. From the ancient times, it has been used as an excellent amulet. It can protect the owner from getting stressed out. When you want to ease your anxiety or feel positive, it is a good gemstone to have. It will protect you from negative energy and improve your physical condition to receive positive energy more.
Chakra Chart of Jade
White Jade
[God] Creativity

Gray Jade
[Cloud] Application

Purple Jade
[Soul] Intuition

Blue Jade
[Wisdom] Thinking Ability

Blue Jade
[Voice] Expression

Green Jade
[Love] Tolerance

Yellow Jade
[Light] Productivity

Orange Jade
[Guts] Persistence

Red Jade
[Life] Life Energy

Black Jade
[Person] Will Power
Jade Data
Chemical formula
NaAl[Si2O6]
Mohs scale
6.5-7
Specific gravity
3.25-3.36
Production
Myanmar
Russia
Kazakhstan
Combination

+ Prehnite
Increase cooperative companions

+ Larimar
Find the place where you can live in peace
Author Hayasaka Yoshino

Hayasaka Yoshino is a stone healer that usually works in Tokyo area, Japan. Yoshino is also famous as a fortune teller and seen over 10,000 people. "Fortune-telling counseling", which finds out the best gemstone for the client, received a high reputation. Representative director of LWE Co., Ltd.
Other Gemstone Recommendation