Scepter Quartz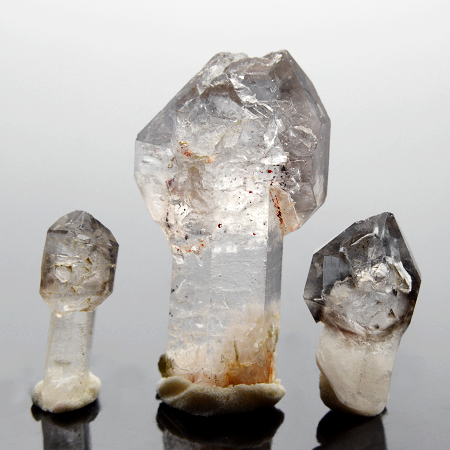 Love and Relationships

[1]

Foster love


[2]

Become attractive


[3]

Improve confidence


[4]

Protect an important person


[5]

Increase children's luck

Money and Business

[1]

Flash an innovative idea


[2]

Enhance decision making


[3]

Accomplish the goal


[4]

Solve problems


[5]

Maintain motivation

Other Energy

[1]

Balance of body and mind


[2]

Receive messages from the heaven


[3]

Get out of a slump


[4]

Follow through on your intention


[5]

Gain energy to live

Scepter Quartz has meaning and properties of receiving holy energy. This gemstone has been used for ceremonies and sorcery from old times. It can receive messages from the heavens and understand them. It is useful when you want to know what you need to do or when you want to predict the future.
---
Scepter Quartz is a rare type of Quartz with mushroom-like shape. It has been told that energy is concentrated in the big swollen part. Please put the bigger part on the upper side when you use, so you can receive more energy from the heavens. Ore is the most popular type for Scepter Quartz because we can enjoy its shape the most. It is not usually made into accessories. If you can find your favorite shape, it will definitely be your lifelong treasure.
---
The unique shape of Scepter Quartz symbolizes male genitals. From ancient times, it has been valued for its meaning and properties of prosperity of descendants. This gemstone will give you power when you want to have a baby. If you want to increase its power, put it in your bedroom and pray for it.
---
Scepter Quartz is a gemstone with meaning and properties of releasing energy. Not only receiving energy, it can also release energy strongly. It is a good gemstone to use when you want vitality for daily life. Scepter Quartz can help you output your opinions and ideas. It is useful when you want to enhance your creativity or expressive power.
---
Scepter Quartz is a rare gemstone in the market. It is not a common gemstone, so you will need to look into several shops. You would have more chances to find one in gemstone shops that is good at ore or quartz. The price is decided by its size and the beauty of its shape. High-quality Scepter Quartz will be expensive, so you will need more budgets for it.
---
Scepter Quartz has meaning and properties of adjusting mental balance well. It is a gemstone with the power to make your mind strong. Your mind will be stronger and overcome various kinds of stress. It is good to use when you want to keep your mental condition well. Scepter Quartz is also used to assert your opinions. You would be able to reach your goal easier by keeping your mind consistent. It is also useful when you want to keep your motivation.
---
Scepter Quartz has meaning and properties to get over difficulties. From old times, it has been believed for its power to help people make progress on things. It would help you solve problems promptly. It is useful when you want to clear your stagnant luck or improve your decision-making skill.
Chakra Chart of Scepter Quartz
Scepter Quartz
[God] Creativity

8th Air Chakra
[Cloud]

7th Crown Chakra
[Soul]

6th Third Eye Chakra
[Wisdom]

5th Throat Chakra
[Voice]

4th Heart Chakra
[Love]

3rd Solar Plexus Chakra
[Light]

2nd Sacral Chakra
[Guts]

1st Root Chakra
[Life]

0th Earth Chakra
[Person]
Author Hayasaka Yoshino

Hayasaka Yoshino is a stone healer that usually works in Tokyo area, Japan. Yoshino is also famous as a fortune teller and seen over 10,000 people. "Fortune-telling counseling", which finds out the best gemstone for the client, received a high reputation. Representative director of LWE Co., Ltd.
Other Gemstone Recommendation