Opal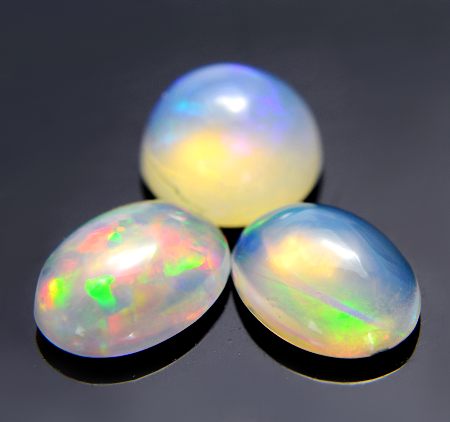 Opal has meaning and properties of making your feelings positive. This gemstone can turn negative feelings and thoughts 180 degrees and make them positive. Please use it when you want to stop negative chain reactions. It would bring you back brightness and improve your luck.
---
Opal has meaning and properties of enhancing its owner's creativity. It has the power to sense invisible energy and make things into reality. It is useful when you want to make a very unique work that no one can make. Opal also has meaning and properties of seeing good or bad of works. It will be helpful to create a work you can say it is beautiful from your heart.
---
Opal is good gemstone to use as an amulet. It would protect you from danger by strengthening the sixth sense. It is also used to see through hostility or malevolence of others. This gemstone will be useful to see if it is a good relationship or a bad relationship. It will support you greatly to get away from troubles.
---
Opal has meaning and properties of enhancing people's conscious levels. It is a good gemstone to use when you want to improve your skills or want to have a broader view of things. It is also good for people who want to become strong from bottom of their heart. Please use it to have better satisfaction of your life.
---
Opal is a gemstone with meaning and properties of healing energy. Opal contains very small amount of water. This water is a holy thing and people have believed that love energy is in there. It is a gemstone that fills lacked love energy to you and heals you.
---
Opal is a good gemstone to use for meditation. The positive energy in it will brighten your subconscious mind. It is good to use when you want to give more nutrition to your mind. You would be able to have good hints to solve problems by using Opal for meditation. It is also useful to get rid of trauma in the past.
---
Opal is a gemstone with a very beautiful shine. High-quality ones have beautiful rainbow-color shine inside. It is a gemstone with both great energy and beauty. There are many fans in the world that are fond of Opal. Each of them has different shine, so there are many collectors, too. It is also famous as a birthstone of October.
---
There are many kinds of colors for Opal. White ones are commonly known, but there are also pink, yellow, blue, and black. The price and the difficulty to get will change by its color. You can get it smoothly by checking in advance. There are 2 types of Opal, natural ones and artificial ones. Beautiful but cheap Opal could be artificial one, so please check it carefully. Beautiful and natural Opal is usually expensive.
Chakra Chart of Opal
White Opal
[God] Creativity

Gray Opal
[Cloud] Application

Purple Opal
[Soul] Intuition

Blue Opal
[Wisdom] Thinking Ability

Blue Opal
[Voice] Expression

Green Opal
[Love] Tolerance

Yellow Opal
[Light] Productivity

Orange Opal
[Guts] Persistence

Red Opal
[Life] Life Energy

Black Opal
[Person] Will Power
Author Hayasaka Yoshino

Hayasaka Yoshino is a stone healer that usually works in Tokyo area, Japan. Yoshino is also famous as a fortune teller and seen over 10,000 people. "Fortune-telling counseling", which finds out the best gemstone for the client, received a high reputation. Representative director of LWE Co., Ltd.
Other Gemstone Recommendation