Bi-Color Tourmaline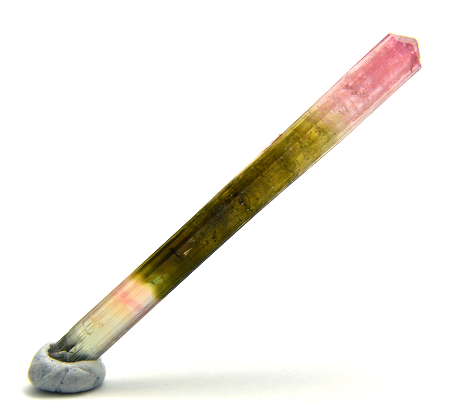 Bi-Color Tourmaline has the meaning and property to free the heart. It is a gemstone used to release curses and barriers. You will gain the support to move towards your real goal. It will help you grab the true future you wish to have from the bottom of your heart.
---
The Bi-Color Tourmaline is a gemstone that enhances the energy of the owner. It will help resolve any stagnant energy. We recommend using it for when you want to break through the limit of your abilities. By widening your scope of activity, it will attract more success.
---
Bi-Color Tourmaline has the meaning of property of retaining balance in your heart. It is a gemstone that helps masculine and feminine energies coexist. It is useful in eliminating unevenness in emotions. It will calm you down when you are feeling aggressive and give you vitality when you are feeling depressed. It is a gemstone that can be used to attack and defend.
---
Bi-Color Tourmaline has the meaning and property of rounding out human relationships. It is famous for being a gemstone that is filled with romantic energy. It is used to open hearts that are closed. It will encourage mutual understanding with your partner and quickly solve problems. We also recommend it when you wish to restore trust.
---
Bi-Color Tourmaline gets its name from its characteristic mix of two colors. Blue and green, pink and yellow, blue and pink, as well as many other combinations exist so please pick according to your tastes. The green and pink watermelon combination is popularly also called "Watermelon Tourmaline". If you find a Bi-Color Tourmaline that you like, it will become your life time treasure. After a long period of time, this natural stone is born so there is no other that is the same. Many people pass down high quality Bi-Color Tourmaline to their children as an asset. The number of Tourmaline is decreasing year by year, so the value of it will increase further and further in the future.
---
Bi-Color Tourmaline has less distribution volume than the normal Tourmaline. Because of that, the price will be expensive accordingly. The ones which the colors mix beautifully are very popular. If you hesitate, high quality Bi-Color Tourmalines will sell out. They are often worn as necklaces and earrings. There are also a few bracelets.
---
Bi-Color Tourmaline has the meaning and property of enhancing happiness. It is a gemstone used to expel negative energy. It also has the power to repair the scars of the heart. It will help get back the joy of living.
---
Bi-Color Tourmaline is a gemstone that proves one's own existence. It is used to prevent one from flowing out to one's surroundings. It is a guardian stone to escape from the rail. By perceiving yourself correctly, a true life will be created.
Chakra Chart of Bi-Color Tourmaline
9th Heaven Chakra
[God]

8th Air Chakra
[Cloud]

Purple Tourmaline
[Soul] Intuition

Blue Tourmaline
[Wisdom] Thinking Ability

Blue Tourmaline
[Voice] Expression

Green Tourmaline
[Love] Tolerance

Yellow Tourmaline
[Light] Productivity

Orange Tourmaline
[Guts] Persistence

Pink Tourmaline
[Beauty] attractiveness

0th Earth Chakra
[Person]
Author Hayasaka Yoshino

Hayasaka Yoshino is a stone healer that usually works in Tokyo area, Japan. Yoshino is also famous as a fortune teller and seen over 10,000 people. "Fortune-telling counseling", which finds out the best gemstone for the client, received a high reputation. Representative director of LWE Co., Ltd.
Other Gemstone Recommendation