Bi Color Fluorite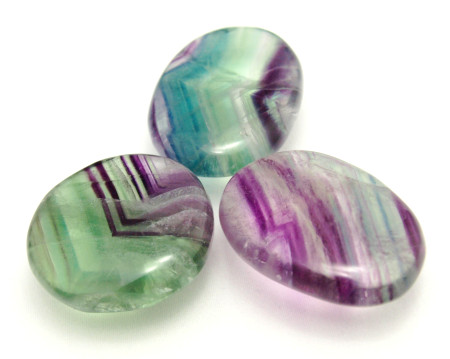 Love and Relationships

[1]

Improve charms


[2]

Grab the opportunity of a love affair


[3]

Deepen communication


[4]

Attract another


[5]

Take back honest emotions

Money and Business

[1]

Pull out talent


[2]

Find a clue for success


[3]

Find adequacy


[4]

Make the idea into a reality


[5]

Improvement of aesthetic sense

Other Energy

[1]

Eliminate complex


[2]

Increase mental strength


[3]

Improve self-evaluation


[4]

Help to demonstrate your ability


[5]

Get an inspiration

Bi Color Fluorite has a meaning and prosperities to bring out talent. It is a gemstone for releasing the potential ability. Please use it when you want to grow yourself or when you want to develop suitability properly, and so on. It is also recommended when you want to recognize the purpose of life properly. It will make your power recognize and approach the target achievement.
---
Bi Color Fluorite also has the meaning and prosperities of improving mental power. It has been believed to be robust by encouraging the growth of the heart. It is highly appreciated by those who work intensely with mental exhaustion. Bi Color Fluorite is a gemstone that catches invisible information. It is said that useful information such as ideas of success and inspiration can be obtained. It is also popular for those who work on designs and projects.
---
Bi Color Fluorite not only makes your heart sturdy but also makes it light. It is said to build a lightweight and strong spirit. Even if you are wearing heavy steel armor, it'll be nonsense if you cannot move. Bi Color Fluorite is a gemstone that provides a movable armor. It would be better to use it for cases such as you're doing too much. It unleashes the burden of the mind, and the original energy is released.
---
There are multiple color variations in the Fluorite. A type mixed with two or more colors is called Bi Color Fluorite. The type of "green + purple" is the most common, and the popularity is also high. There are also other types such as "green + yellow" and "green + blue". Please choose color scheme according to your preference. Natural stones are produced over tens of millions to hundreds of millions of years. The patterns of Bi Color Fluorites are different from each other, and exactly the same thing cannot be obtained. If you find a favorite pattern, it will become a life gift.
---
Bi Color Fluorite has the meaning and prosperities of polishing yourself. It is said to be a gemstone that is said to make you the ideal. It will create the most brilliant condition to the owner. It is also used when you want to eliminate complexes. A self-evaluation will be enhanced and a positive future will be created.
---
Bi Color Fluorite is a gemstone that enhances the owner's aesthetic sense. It is said to make you recognize beautiful things correctly. It is also recommended for people involved in the fields of art and beauty. It is highly appreciated by people such as architecture and jewelry relations. Bi Color Fluorite is also used when you want to increase beauty luck. It is the best gemstone when you want to raise your charm.
Chakra Chart of Bi Color Fluorite
9th Heaven Chakra
[God]

8th Air Chakra
[Cloud]

Purple Fluorite
[Soul] Intuition

Blue Fluorite
[Wisdom] Thinking Ability

5th Throat Chakra
[Voice]

Green Fluorite
[Love] Tolerance

Yellow Fluorite
[Light] Productivity

2nd Sacral Chakra
[Guts]

Pink Fluorite
[Beauty] attractiveness

0th Earth Chakra
[Person]
Combination

+ Amethyst
Keep the heart in a beautiful state
Author Hayasaka Yoshino

Hayasaka Yoshino is a stone healer that usually works in Tokyo area, Japan. Yoshino is also famous as a fortune teller and seen over 10,000 people. "Fortune-telling counseling", which finds out the best gemstone for the client, received a high reputation. Representative director of LWE Co., Ltd.
Other Gemstone Recommendation