Afghanite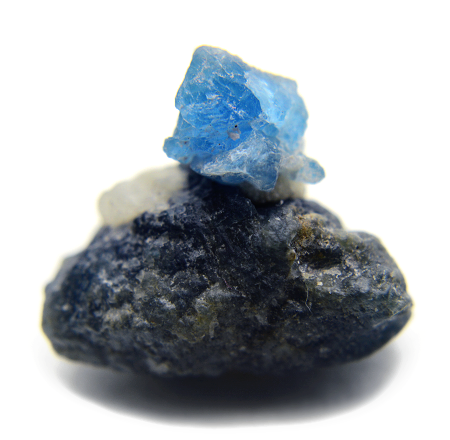 Afghanite has the meaning and properties to calm mind. It is a gemstone to clear all negative emotions and thoughts. It will prevent you from failing by temporary emotions. It supports you not to lose yourself and lead to the best way.
---
Afghanite has the meaning and properties to enhance concentration. It is a gemstone to make technology master at the fastest. It is also used when you want to improve your study efficiency. It will prevent things from being left unfinished.
---
Afghanite has the meaning and properties to keep human relations smooth. It is a gemstone to maximize communication ability. It predicts the opponent's emotions and makes you maneuver well. It is a valuable amulet in an environment where mutual understanding is important.
---
Afghanite is a mineral discovered in the 1900's. The name comes from "Afghanistan" of the discovered place. Information is extremely few, and it is said to be "phantom stone". It is a rare stone for gemstone collectors.
---
Afghanite is mined from "Sar-e Sang" in Afghanistan. Sar-e Sang mine is also famous as a place to produce the finest "Lapis Lazuli". In addition, 'Sodalite' is also produced. It is a mine where many beautiful bluish minerals can be collected.
---
Afghanite is classified as a kind of "Feldspathoid". "Silicon (Si)" is less than "Feldspar". It is similar to "Lazurite" and "Sodalite" which are a type of Feldspathoid. Each ingredient is different, but it is pretty confusing.
---
Afghanite is a blue gemstone. "Light blue" and "white" types also exist. The higher the quality type is, the higher the transparency becomes. Processing is difficult, and a part becomes accessories. It will be processed into "necklace" or "bracelet". Since it is a rare stone, the price will be expensive.
---
Afghanite has the meaning and properties to increase mental power. It is a gemstone to keep your heart from breaking. It gives you strength and courage to survive the pinch. It is recommended for those with many responsibilities and expectations.
---
Afghanite has the meaning and properties of flashing the best idea. It is a gemstone to overcome a stagnant situation. Breakthrough things and services dazzle the surroundings. It will be useful when you need life reform.
Chakra Chart of Afghanite
9th Heaven Chakra
[God]

8th Air Chakra
[Cloud]

7th Crown Chakra
[Soul]

Blue Afghanite
[Wisdom] Thinking Ability

Blue Afghanite
[Voice] Expression

4th Heart Chakra
[Love]

3rd Solar Plexus Chakra
[Light]

2nd Sacral Chakra
[Guts]

1st Root Chakra
[Life]

0th Earth Chakra
[Person]
Author Hayasaka Yoshino

Hayasaka Yoshino is a stone healer that usually works in Tokyo area, Japan. Yoshino is also famous as a fortune teller and seen over 10,000 people. "Fortune-telling counseling", which finds out the best gemstone for the client, received a high reputation. Representative director of LWE Co., Ltd.
Other Gemstone Recommendation