Green Sapphire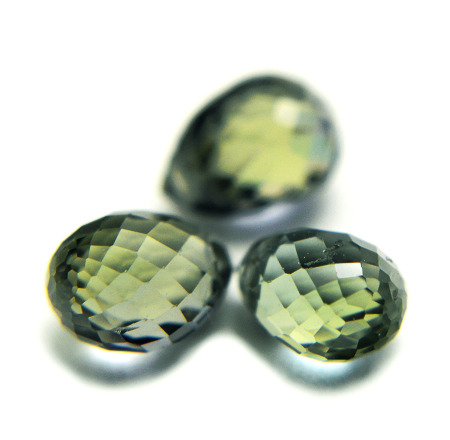 Love and Relationships

[1]

Meet trustworthy people


[2]

Deepen love


[3]

Foster a heart of consideration


[4]

Strengthen the bond between two people


[5]

Fulfillment of love

Money and Business

[1]

Increase productivity


[2]

Get creative power


[3]

Increase concentration


[4]

Absorb knowledge


[5]

Fulfill dreams

Other Energy

[1]

Heal your soul


[2]

Gain a pleasure to live


[3]

Calm the spirit


[4]

Overcome trauma


[5]

Develop life

Green Sapphire is a gemstone that has a meaning and properties of raising trust. The green color has the power to deepen the love. This gemstone is good for becoming more thoughtful. By giving love to others, you will be able to have trust from people and win popularity. It is useful when you want to believe in yourself.
---
Green Sapphire is known as a gemstone that can increase the owner's productivity. It has the power to create something new and accomplish it. This gemstone is good for people who do creative work. It is also useful when you want to change yourself to a producer from a consumer. Green Sapphire would synchronize to the owner's thought and create the things in your mind.
---
Green Sapphire also has a meaning related to healing. This gemstone will calm down your mind and help you get back in the normal position. If you had a tough experience in the past or have any trauma, you could overcome that suffering. It is a gemstone that will cover your pain with the love energy and heal you gently. Many healers around the world acknowledge Green Sapphire as a gemstone with great healing power. It is a gemstone that can heal the past and create bright future. Some people say Green Sapphire is a "gemstone of growth."
---
Sapphire is also called "Corundum." Corundum has color variations of purple, blue, green, orange, red, and so on. The green one is the Green Sapphire. The meaning and properties will change by its color. Many people will imagine blue for Sapphire. Green Sapphire is very rare, so it will be difficult to find it. It is much more expensive than regular Sapphire, so you have to be really ready if you are buying it. The green one has the most love energy in all the Sapphires.
---
Since Green Sapphire has the power to calm you down, it is often used for meditation. This gemstone will be good for yoga and concentration. It is told that when people do meditation, intuitive power will increase and they will have good ideas in their mind. Sapphire is also called as "the gemstone of intelligence" and people can enhance their intellectual power and mental power. That is the same for Green Sapphire and anything related to mind and mental would be covered.
---
Green Sapphire will let the owner have the joy of life. This gemstone will give you love and rest. You can have happiness and hope by getting good energy to your heart. It is a good gemstone for people who want to make their dream come true or prosper things.
Chakra Chart of Green Sapphire
9th Heaven Chakra
[God]

8th Air Chakra
[Cloud]

7th Crown Chakra
[Soul]

6th Third Eye Chakra
[Wisdom]

5th Throat Chakra
[Voice]

Green Sapphire
[Love] Tolerance

3rd Solar Plexus Chakra
[Light]

2nd Sacral Chakra
[Guts]

1st Root Chakra
[Life]

0th Earth Chakra
[Person]
Green Sapphire Data
Chemical formula
Al2O3
Mohs scale
9
Specific gravity
3.99-4.05
Production
Myanmar
Sri Lanka
Thailand
Author Hayasaka Yoshino

Hayasaka Yoshino is a stone healer that usually works in Tokyo area, Japan. Yoshino is also famous as a fortune teller and seen over 10,000 people. "Fortune-telling counseling", which finds out the best gemstone for the client, received a high reputation. Representative director of LWE Co., Ltd.
Other Gemstone Recommendation