Pink Epidote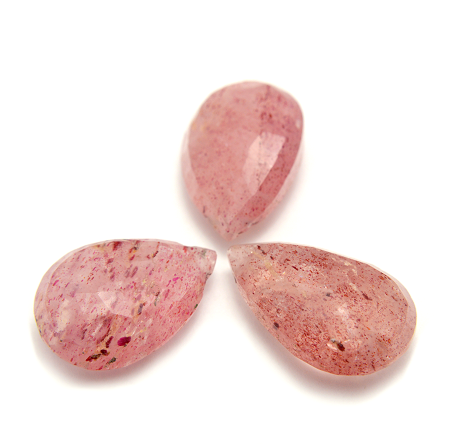 Love and Relationships

[1]

Fill heart with love


[2]

Advance relations


[3]

Strengthen affection


[4]

Attract a good match


[5]

Take back confidence

Money and Business

[1]

Realization of wishes


[2]

Pull out talent


[3]

Sustain motivation


[4]

Clarify goals


[5]

Get over the obstacle smoothly

Other Energy

[1]

Create a bright future


[2]

Rejuvenate


[3]

Call in a good match


[4]

Helping organize emotions


[5]

Carve out a destiny

Pink Epidote is a gemstone which has meaning and prosperities to heal owner. It has been believed that strong positive power is enclosed. It is said to be a guardian stone that is said to make your heart bright and positive. It will heal negative energy hidden in your heart. It also has the power to protect so that you will not be hurt again.
---
Pink Epidote awakens the owner's consciousness and feelings. It is a gemstone that has meaning and prosperities to develop potential ability. You will get the energy to realize the desire. Pink Epidote eliminates things that are obstacles to bringing out talent. The barrier will be removed and the original luck will be restored.
---
Pink Epidote has the meaning and prosperities of amplifying energy. It is a gemstone that is useful when you want energy and vitality. It is said that it not only amplifies but also purifies the aura. You will be able to get good quality clean energy. It is a gemstone recommended when you are tired and you are having stress.
---
Pink Epidote is a gemstone that fulfills the energy of love. It is believed to clear emotions such as anxiety and fear and make it work correctly. Pink Epidote contains meaning and prosperities to heal past trauma. It cuts out invisible negative causes and will clean up them beautifully. By healing past wounds, you will create a bright future.
---
Pink Epidote has a meaning and prosperities to organize emotions. It can be said to be the best gemstone to clarify your ideal. It is believed that you'll get support to find the answers to the questions such as "you can ask what you are going to do and where you should aim". It can be said to be a gemstone to elucidate the destiny and fates that are determined. It helps that you'll understand and advance the way you walk correctly. It is ideal for people who wish to overcome obstacles occurring in their life smoothly.
---
The positive energy hidden in Pink Epidote is also effective for others. There are also meanings and effects of giving courage and hope to people. It will save a lot of people and good energy will be returned to you. Those who are in a position to give something to people, such as medical staffs, therapists, counselors, teachers, please try by all means. It is also effective when you have a subordinate in a company. It will improve the morale of the surroundings and lead to success. It's also used when you need reliable colleagues or business partners.
Chakra Chart of Pink Epidote
9th Heaven Chakra
[God]

8th Air Chakra
[Cloud]

7th Crown Chakra
[Soul]

6th Third Eye Chakra
[Wisdom]

5th Throat Chakra
[Voice]

4th Heart Chakra
[Love]

3rd Solar Plexus Chakra
[Light]

2nd Sacral Chakra
[Guts]

Pink Epidote
[Beauty] attractiveness

0th Earth Chakra
[Person]
Combination

+ Amethyst
Prevent the heart from being poisoned
Author Hayasaka Yoshino

Hayasaka Yoshino is a stone healer that usually works in Tokyo area, Japan. Yoshino is also famous as a fortune teller and seen over 10,000 people. "Fortune-telling counseling", which finds out the best gemstone for the client, received a high reputation. Representative director of LWE Co., Ltd.
Other Gemstone Recommendation