Peristerite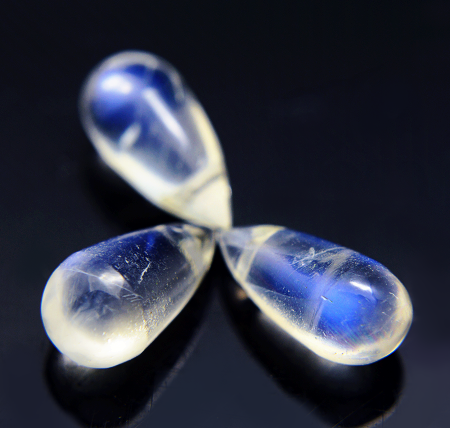 Peristerite has the meaning and properties of healing wounded hearts. It is a gemstone helping the owner to overcome the past and move forward. It is also used to hold back negative feelings. It will help you regain peace of mind.
---
Peristerite also has the meanings and properties of opening a closed heart. It is recommended for those who can easily hold back their opinions and emotions and will be helpful in areas like improving the owner's relationships with others. In order to be loved by another, you must first open your own heart. Peristerite will give you a lot of affection and it is recommended for people who get nervous when meeting someone for the first time.
---
This is a gemstone that increases self-confidence. It can also be used in times where you want to compensate for a lack of affection. To affirm yourself, receiving love from your surroundings is essential. By filling you heart with love, you will gain great confidence. An undefeatable spiritual strength will be born.
---
It is believed that Peristerite has the meaning and properties of enhancing intuition. It is a gemstone symbolizing the power and energy of the moon. Distributed as a Moonstone, it has been used to recognize and utilize invisible energy. It is also effective in situations like wanting to know the future, etc.
---
There is another website that introduced Peristerite as an imitation of Moonstone, but that is a rather subtle expression. It is true that Moonstone and Peristerite have difference ingredient definitions; the basic definition of Moonstone is "Orthoclase" + "Albite" whereas Peristerite is a variant of "Albite". Therefore, it is likely to be treated differently. However, it is also true that the name 'Moonstone' comes from "a stone emitting soft and pale light like the moonlight". In short, it comes down to the difference in "ingredient group" and "name-derived group". Both are correct, but neither are perfect answers. For that reason, you should not trust "Peristerite is an imitation of Moonstone" and website of the like that offer little explanation as much.
---
Peristerite is a white gemstone with a mysterious blue shine inside. Treating it as a jewel and mounting it on a necklace or shaping them into earrings is a popular choice. They are also sold as bracelets and cell phone case straps, so please choose a design that is easy for you to use.
---
Peristerite has meanings and properties of enhancing the owner's expressive power. It is popular as an amulet that increases the user's communication skills. It is useful as an amulet from expressing the right words. It is responsible for words and its sales have been supported by education officials. In addition, it is popular amongst managers, leaders, doctors, moderators, and so on.
Chakra Chart of Peristerite
Peristerite
[God] Creativity

8th Air Chakra
[Cloud]

7th Crown Chakra
[Soul]

6th Third Eye Chakra
[Wisdom]

5th Throat Chakra
[Voice]

4th Heart Chakra
[Love]

3rd Solar Plexus Chakra
[Light]

2nd Sacral Chakra
[Guts]

1st Root Chakra
[Life]

0th Earth Chakra
[Person]
Author Hayasaka Yoshino

Hayasaka Yoshino is a stone healer that usually works in Tokyo area, Japan. Yoshino is also famous as a fortune teller and seen over 10,000 people. "Fortune-telling counseling", which finds out the best gemstone for the client, received a high reputation. Representative director of LWE Co., Ltd.
Other Gemstone Recommendation