Red Diamond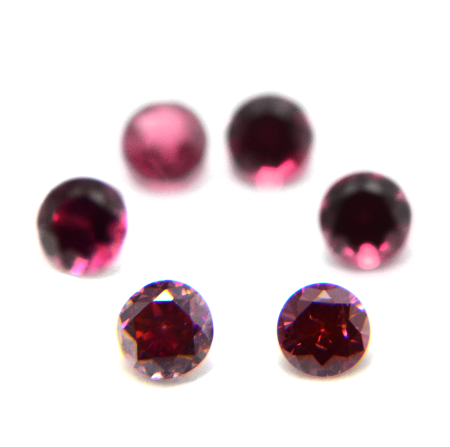 Red Diamond has meaning and properties of increasing your will power. This gemstone will help you achieve the goal you have set all the way to the end. It can also give you strong mental power that can overcome difficulties. It is good to use when you want courage to challenge a battle that you can't lose.
---
Red Diamond has meaning and properties of making your feelings bright. This gemstone can clearly remove all the negative feelings and thoughts. It can also get you back vitality and passion that you have lost. It will give you a chance to restart something you stopped in the middle.
---
Red Diamond has meaning and properties of enhancing the power to try things. This gemstone can change impossible into possible. It would make a breakthrough to your limit that you have set on your own. It will give you a chance to go into a new world.
---
Red Diamond has different mood depending on its place of production. Colors such as purplish-red, reddish-brown, orange red, and dark pink sold in stores. Each red color has its own charm. Favorite red color will differ on each person. Red Diamond that has bright red color is rare and you won't find it so often. Colored Diamonds are called Fancy Colored Diamonds and many of the gemstone collectors like them.
---
There are two types of Red Diamond: natural-color ones and processed-color ones. Their prices are very different, so please check them carefully. If you are buying one, Red Diamond with gemstone certificate is recommended. Even if it is a processed-color one, the price is pretty high. It is processed by heating or giving pressure on it.
---
Red Diamond is very rare in the market. You will need a lot of time and work if you want one. Red Diamond with natural color is more expensive than Diamond with clear color. Please have big budgets if you want to buy it. Red Diamond is a rare gemstone for gemstone collectors. Most people don't even know that there is Red Diamond. It is used for necklaces, earrings, or rings.
---
Red Diamond has meaning and properties of seeing through the truth of things. This gemstone will prevent you from being cheated by superficial lies. It will give you an insight for unfavorable choice and let you avoid it in advance. It is also good to use when you want to correct the path of your life.
---
Red Diamond has meaning and properties of fulfilling good relationship. This gemstone is a symbol of eternal love. It would attract a spouse, best friends, or business partners that can be a lifelong relationship. It is also useful when you want to heal your loneliness or anxiety.
Chakra Chart of Red Diamond
9th Heaven Chakra
[God]

8th Air Chakra
[Cloud]

7th Crown Chakra
[Soul]

6th Third Eye Chakra
[Wisdom]

5th Throat Chakra
[Voice]

4th Heart Chakra
[Love]

3rd Solar Plexus Chakra
[Light]

2nd Sacral Chakra
[Guts]

Red Diamond
[Life] Life Energy

0th Earth Chakra
[Person]
Author Hayasaka Yoshino

Hayasaka Yoshino is a stone healer that usually works in Tokyo area, Japan. Yoshino is also famous as a fortune teller and seen over 10,000 people. "Fortune-telling counseling", which finds out the best gemstone for the client, received a high reputation. Representative director of LWE Co., Ltd.
Other Gemstone Recommendation