Kidney Ore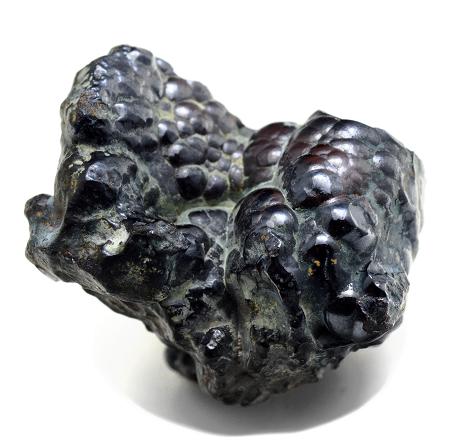 Kidney Ore has the meaning and properties to make thoughts positive. It is a gemstone to emit a powerful energy like "fire". It helps to dispel dark emotions and thoughts. Energy to live the future will be restored.
---
Kidney Ore has the meaning and properties to give strong courage. It is a gemstone to give strength to confront hardship without being afraid. Chance to change "impossible" to "possible" will be obtained. It is also effective when you want to regain confidence you have lost.
---
Kidney Ore has the meaning and properties to enhance a sense of advancement. It is a gemstone to actively challenge to the new things. It is useful when you want to break through the limits of ability. It is also recommended when you want to get out of boring everyday life.
---
Kidney Ore is a Hematite that resembles the shape of the kidney. It is different from "Kidney Stone" which can be made in the human kidney. On this page, "Hematite" is introduced. Please be careful as the information is easy to mix.
---
The surface of Kidney Ore is round and non-smooth. It is popular as a mineral specimen. It is beautiful crystals created by nature. It is also called "Kidney Hematite".
---
Kidney Ore (Hematite) is a mineral in which "iron (Fe)" and "oxygen (O)" are connected. It is classified as a kind of "Oxide Minerals". It is also famous as an ore from which iron can be collected. The decorative item type becomes an amulet.
---
There are two or more minerals that looks like the shapes of kidneys. The main types are as follows.
-"Hematite"
-"Malachite"
-"Turquoise"
-"Smithsonite"
-"Rhodochrosite"
-"Psilomelane"
---
There is not much distribution of Kidney Ore. Please find shops that are strong in mineral specimen high and low. The price is basically not very high. Since the shape is interesting, it is popular among mineral collectors.
---
Kidney Ore has the meaning and properties to survive in a competitive society. It is a gemstone to give strength not to get beaten by rivals. It will support you to grab big "success" and "achievement". It also gives "chance" and "passion" to make a winning flow.
---
Kidney Ore has the meaning and properties to strengthen the personality of the owner. It is a gemstone to maximize the innate advantages. It makes you succeed steadily in the field where you can win. Even when you want to aim for independence, it is an effective amulet. It will teach you how to survive with your own abilities.
Chakra Chart of Kidney Ore
9th Heaven Chakra
[God]

8th Air Chakra
[Cloud]

7th Crown Chakra
[Soul]

6th Third Eye Chakra
[Wisdom]

5th Throat Chakra
[Voice]

4th Heart Chakra
[Love]

3rd Solar Plexus Chakra
[Light]

2nd Sacral Chakra
[Guts]

1st Root Chakra
[Life]

Kidney Ore
[Person] Will Power
Author Hayasaka Yoshino

Hayasaka Yoshino is a stone healer that usually works in Tokyo area, Japan. Yoshino is also famous as a fortune teller and seen over 10,000 people. "Fortune-telling counseling", which finds out the best gemstone for the client, received a high reputation. Representative director of LWE Co., Ltd.
Other Gemstone Recommendation