White Coral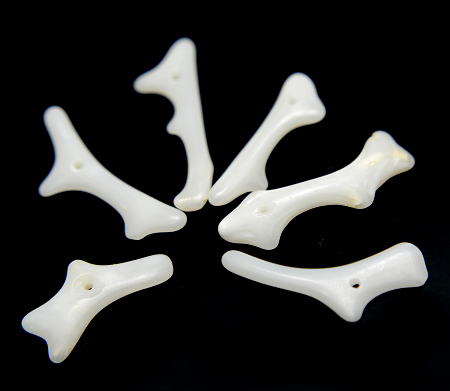 White Coral has the meaning and properties to make luck last long. It is a gemstone symbolizing "immortal fortune". From ancient times, it is used as a sacred talisman. It will purify negative energy and positively attract positive energy. Finally it will make you design a life with more positive.
---
White Coral has the meaning and properties to enhance the ability to detect danger. Intuitively you will see "positive" and "negative" of things. It is a reliable gemstone when you challenge to an unknown field. When thinking cannot be caught up, it works reflexively to avoid danger. It will let you reach new land safely.
---
White Coral has the meaning and properties to enhance family luck. It is a gemstone to be highly appreciated as a protecting stone of the family. It is used as a wish for prosperity of family and strengthening of cohesion. In the case of unmarried, it will be an amulet of fulfillment of good matches. It attracts a partner with a strong soul tie.
---
The value of White Coral changes greatly depending on the type. White Coral of "Corallium Konojoi" is treated as a valuable jewel Coral. The price is very expensive. White Coral of "Keratoisis" is traded at a low price. Keratoisis is also called "Bamboo Coral". Please check carefully which type of White Coral belongs to.
---
There is not much distribution of White Coral. When you look for Corals, you will find many red and pink colors. Colored Coral is more popular. When White Coral is needed, please look for a shop that is strong in Coral. There are not many in the ordinary gemstone shop. In some cases, you will get it sooner by order.
---
White Coral is often processed into accessories. "Necklace", "pierce", "bracelet" etc. are available. Please choose a design that is easy to wear. White Coral of "Bamboo Coral" can be purchased at a reasonable price.
---
White Coral has the meaning and properties to fill the gap between ideal and reality. It is a gemstone to aware of realizable goals. It reduces the risk of disillusionment in dreams. Achieving a steady goal will adequately meet the ideals. It is a gemstone to make you feel better.
---
White Coral has the meaning and properties to heal the wounds of the heart received in the past. It is a gemstone to use when you want to overcome the painful past. It will make farewells to invisible "anxiety", "terror" and "sadness". Courage and power to live today and tomorrow are regained.
Chakra Chart of White Coral
White Coral
[God] Creativity

8th Air Chakra
[Cloud]

7th Crown Chakra
[Soul]

6th Third Eye Chakra
[Wisdom]

5th Throat Chakra
[Voice]

4th Heart Chakra
[Love]

3rd Solar Plexus Chakra
[Light]

2nd Sacral Chakra
[Guts]

1st Root Chakra
[Life]

0th Earth Chakra
[Person]
Author Hayasaka Yoshino

Hayasaka Yoshino is a stone healer that usually works in Tokyo area, Japan. Yoshino is also famous as a fortune teller and seen over 10,000 people. "Fortune-telling counseling", which finds out the best gemstone for the client, received a high reputation. Representative director of LWE Co., Ltd.
Other Gemstone Recommendation