Green Garnet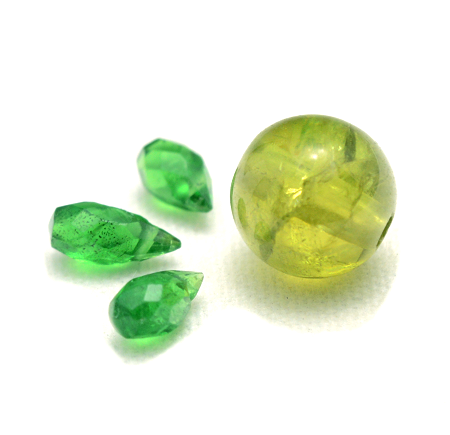 Love and Relationships

[1]

Deepen mutual understanding


[2]

Increase credit


[3]

Improve confidence


[4]

Take back gentleness


[5]

Enrich affection

Money and Business

[1]

Improve abilities


[2]

Create a new one


[3]

Make things prosperous


[4]

Heal anxiety


[5]

Implement the image

Other Energy

[1]

Grab a hope


[2]

Filled with energy


[3]

Light the future brightly


[4]

Gain a pleasure to live


[5]

Increase motivation

Green Garnet has a meaning and properties of growing the owner's skills. It is known as a gemstone that has the power of growth and regeneration. The beautiful green color is a symbol of the Mother Earth. It has been believed that Green Garnet can accept and nurture everything. This gemstone is full of hope. It will definitely brighten your future.
---
Green Garnet is a gemstone that symbolizes prosperity and abundance. Things will grow as the nature does. Just like bathing in sunshine, your body will be filled with energy. Green Garnet is a gemstone that can confirm the happiness of life. You can appreciate people and be kind to people. It is highly recommended for people who work in a service industry.
---
Green Garnet has a meaning of realizing the image. It is good for making your dreams clear. When you have a goal to achieve, please try having Green Garnet. It also has a meaning of enhancing the owner's motivation. You can have the power to work positively. Green Garnet is useful when you want to have more confidence.
---
There are various colors of Garnet other than green. Red Garnet is the most famous one. The meaning and the component will differ by its color. Choose your best Garnet depending on what you need. Garnet with beautiful color and high solidity will be handled as jewelry. High-quality Green Garnet is very expensive. Please choose your Garnet depending on your budget. Green Garnet is rare, so look for it patiently. It could be easier if you just order it. Green Garnet is usually made into accessories like necklaces or earrings. There are bracelets too, but fewer than accessories. Please ask the shops if items are available or not.
---
Green Garnet has a meaning and properties of healing. It has been told that this gemstone can make people generous by healing their soul. Not only for healing, Green Garnet can strengthen the soul. It is a gemstone that helps people take in new energy and reconstruct themselves. When you want to make a fresh start, this is the right gemstone for you.
Chakra Chart of Green Garnet
9th Heaven Chakra
[God]

8th Air Chakra
[Cloud]

7th Crown Chakra
[Soul]

6th Third Eye Chakra
[Wisdom]

5th Throat Chakra
[Voice]

Green Garnet
[Love] Tolerance

3rd Solar Plexus Chakra
[Light]

2nd Sacral Chakra
[Guts]

1st Root Chakra
[Life]

0th Earth Chakra
[Person]
Green Garnet Data
Chemical formula
Ca3Al2[SiO4]3
Mohs scale
6.5-7
Specific gravity
3.64-3.68
Production
Italy
Switzerland
Kenya
Combination
Other Gemstone Recommendation