Blue Chalcedony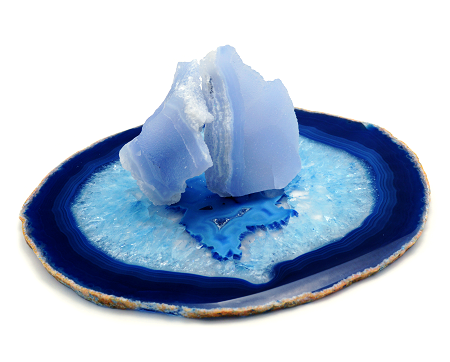 Love and Relationships

[1]

Communication ability up


[2]

Develop a relationship


[3]

Strengthen ties


[4]

Get a reliable partner


[5]

Boost self-confidence

Money and Business

[1]

Improve intuition


[2]

Increase your ability to express


[3]

Think flexibly


[4]

Get an idea for success


[5]

Remain calm

Other Energy

[1]

Heal traumas of the past


[2]

Increase fellows


[3]

Balance of body and mind


[4]

Reach an agreement


[5]

Stabilize luck

The meaning of Blue Chalcedony is flexibility. It is said to harmonize your emotions and to bring calmness and peace. By releasing stress, the stone can increase your capacity to cope with life. Its gentle energy of Blue Chalcedony organizes your emotions. It is used to sort out your feelings and to boost self-confidence.
---
Blue Chalcedony stone brings out your innate energies. It is said to strengthen your energies as part of its meanings. Blue Chalcedony is believed to energize throat chakra and sixth chakra (third eye). The gemstone increases your intuition and sensitivity. It is said to help you to feel and understand intangible energies. It is best used to get an idea for success or to understand people's feelings correctly.
---
The meaning of Blue Chalcedony also includes smooth communication. It has been believed to improve verbal communication by clearing throat chakra. The gemstone is for understanding of our feelings and verbal communication. Blue Chalcedony is highly evaluated among counselors and therapists around the world. It is effective for the people who deal with lots of people and require verbal communication at work.
---
Blue Chalcedony goes deep to your innate abilities. The meaning of Blue Chalcedony also includes sorting out of past memories. The gemstone heals your past traumas gently. Blue Chalcedony stone supports you to open up your heart again. If you need a power to move on or to grow spiritually and mentally, Blue Chalcedony is a best gemstone.
---
Blue Chalcedony symbolizes water and ocean. The gemstone has a long history and has many legends. It has been used as a special talisman and also offered to the people in power as jewelry. Blue Chalcedony is a very popular gemstone even now. The gemstone is often processed as accessories to get its benefits. Blue Chalcedony has its esthetic beauty and also a healing power in it.
---
Blue Chalcedony with a lace-like pattern is also called "Blue lace agate". Some Blue Chalcedony also has striped patterns. You can get the same energy from Blue race agate as that of Blue Chalcedony. The price and availability of both of these stones is about the same and both are available at gemstone shops.
Chakra Chart of Blue Chalcedony
9th Heaven Chakra
[God]

8th Air Chakra
[Cloud]

7th Crown Chakra
[Soul]

6th Third Eye Chakra
[Wisdom]

Blue Chalcedony
[Voice] Expression

4th Heart Chakra
[Love]

3rd Solar Plexus Chakra
[Light]

2nd Sacral Chakra
[Guts]

1st Root Chakra
[Life]

0th Earth Chakra
[Person]
Blue Chalcedony Data
Chemical formula
SiO2
Mohs scale
7
Specific gravity
2.57-2.64
Production
Greece
Brazil
Uruguay
Combination

+ Kunzite
Build a reliable relationship
Author Hayasaka Yoshino

Hayasaka Yoshino is a stone healer that usually works in Tokyo area, Japan. Yoshino is also famous as a fortune teller and seen over 10,000 people. "Fortune-telling counseling", which finds out the best gemstone for the client, received a high reputation. Representative director of LWE Co., Ltd.
Other Gemstone Recommendation