Fire Opal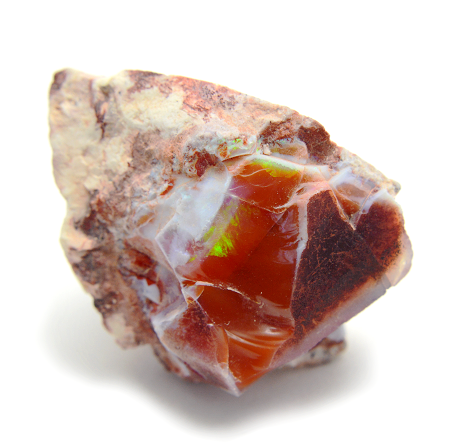 Love and Relationships

[1]

Shine the owner's charm


[2]

Encourage conversation


[3]

Develop the relationship between two people


[4]

Get rid a wall in your mind


[5]

Find a person you really love

Money and Business

[1]

Create creative things


[2]

Work efficiently


[3]

Realization of your dream


[4]

Motivate


[5]

Tell the things you want to say exactly

Other Energy

[1]

Activate the energy


[2]

Give the power to go forward


[3]

Help control emotions


[4]

Improve continuity


[5]

Upgrade life force

Fire Opal is a gemstone that has a meaning and properties of bringing out the owner's personality. Just as the name shows, this gemstone symbolizes "flame" and it has very powerful energy. You may use your power efficiently by burning your energy. Fire Opal is good to use when you want to realize your dream or goal. It is also great when you want to create your original world view.
---
Fire Opal has a meaning of raising your creativity. Big energy in the gemstone would light up your creative spirit. It is also good when you want to get motivated. Fire Opal is a useful gemstone when you want to have more staying power. It has been believed that it can give you the energy to keep working hard. It would be a good lucky charm if you can't stick to anything.
---
Fire Opal is a gemstone that can balance your energy. It would light you up when you lack motivation, and it would calm you down when you are out of control. This gemstone is not only for giving you power, it can control your energy to stay in good balance. It is also useful when you have big ups and downs. Fire Opal's meaning will help you a lot when you want to deal well with people at work or the person in love.
---
Fire Opal is a very rare gemstone. There are only few shops that sell it. It is going to be very expensive. Although Fire Opal is an expensive gemstone, this great meaning and properties attracts so many people that it is always sold out. It is a truly difficult gemstone to get. You will need to be really serious about it if you want to have one. Please visit many competent shops persistently.
---
Fire Opal is a type of opal that is red or brown. The most famous one is from Mexico. There are ones that have rainbow shine inside and ones that don't. The more beautiful the shine is, the higher the quality is. Since Fire Opal is too difficult to get, many people use opals of other colors. There are white, yellow, pink, and blue opals other than red.
---
Fire Opal is a gemstone that has a meaning and properties of increasing love. It is well known for building a good relationship. You may have great love with the one you love. It is also used when you want to improve modest communication. Your relationship would be better if the communication goes smoothly.
Chakra Chart of Fire Opal
9th Heaven Chakra
[God]

8th Air Chakra
[Cloud]

7th Crown Chakra
[Soul]

6th Third Eye Chakra
[Wisdom]

5th Throat Chakra
[Voice]

4th Heart Chakra
[Love]

3rd Solar Plexus Chakra
[Light]

Fire Opal
[Guts] Persistence

1st Root Chakra
[Life]

0th Earth Chakra
[Person]
Fire Opal Data
Chemical formula
SiO2 nH2O
Mohs scale
5.5-6.5
Specific gravity
1.99-2.25
Production
Australia
Mexico
Slovak Republic
Other Gemstone Recommendation