Precious Opal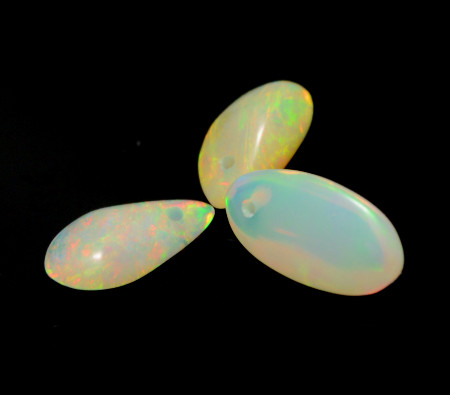 Love and Relationships

[1]

Meet a sympathizer


[2]

Get together with an ideal partner


[3]

Develop a relationship


[4]

Take back a loving feeling


[5]

Repair relationships

Money and Business

[1]

Draw out charisma


[2]

Improve understanding


[3]

Make negotiations successful


[4]

Fulfill dreams


[5]

Recover from mistakes

Other Energy

[1]

Increase Empathy


[2]

Improve confidence


[3]

Restart things


[4]

Attract good luck


[5]

Get out of the pinch

Precious Opal is a gemstone with a meaning and properties of changing your life for the better. It would help you to make your ideal future true. This gemstone is good to use when you want to make progress in love or achieve a goal on business. The stronger your hope is, the higher chance of making it true. Precious Opal would be a good partner that understands you well. It would fully catch your hope and gives you an appropriate power.
---
Precious Opal has a meaning and properties of making human relationships run smoother. It is effective for all kinds of relationships such as love, friends, and family members. Precious Opal is a gemstone full of love energy. It would enhance your understanding ability and empathy. You would be able to know how to communicate by knowing that person deeper. It is also a good gemstone for people working for service industry or sales.
---
Precious Opal is a gemstone that has rainbow shine inside. You can enjoy the sparkle of blue, green, yellow, and red. From old times, this rainbow shine was considered to be a symbol of harmony. Precious Opal has a meaning and properties of making the energy into normal state. This gemstone is often used to fix human relationships or get back in relationship with your ex-lover again. It is also useful when you want to retrieve your mistakes on business or bring back your luck flow to original state.
---
Opal has types that has a rainbow shine and the types that don't shine. Precious Opal, which has beautiful glitter, has been handled as jewelry. It has stronger meanings and effects than regular Opal. Beautiful Precious Opal is highly valued but it will be expensive. Please consider your budgets carefully when you buy one. If the price is too high for your budget, Common Opal, the one without shine, would be nice for you.
---
Precious Opal has been believed on its power to improve owner's charm. The sparkle inside would shine your aura. This gemstone would make both your inner and appearance more beautiful. It is supported by people who need charisma or popularity. Precious Opal is also good to use when you want to have more self-confidence. You would be able to have confidence in you by appealing yourself well.
---
Precious Opal has a meaning and properties of making owner's mind brighter. The holy light energy would purify negative factors. It is a good gemstone to use when you want to improve your decision-making and the power to make actions. Please use it when you want to start something new or relax yourself when you are nervous.
Chakra Chart of Precious Opal
White Precious Opal
[God] Creativity

8th Air Chakra
[Cloud]

7th Crown Chakra
[Soul]

6th Third Eye Chakra
[Wisdom]

5th Throat Chakra
[Voice]

4th Heart Chakra
[Love]

Yellow Precious Opal
[Light] Productivity

Orange Precious Opal
[Guts] Persistence

Red Precious Opal
[Life] Life Energy

Black Precious Opal
[Person] Will Power
Author Hayasaka Yoshino

Hayasaka Yoshino is a stone healer that usually works in Tokyo area, Japan. Yoshino is also famous as a fortune teller and seen over 10,000 people. "Fortune-telling counseling", which finds out the best gemstone for the client, received a high reputation. Representative director of LWE Co., Ltd.
Other Gemstone Recommendation