Gold Leaf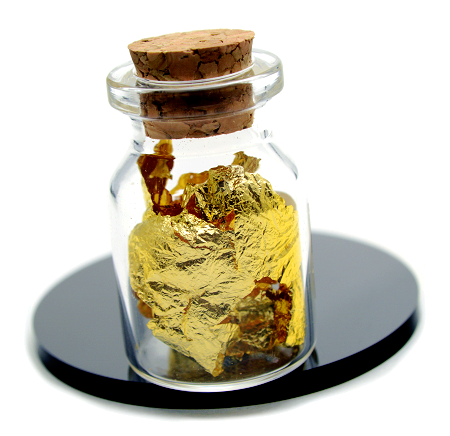 Gold Leaf has meaning and properties of recovering weary energy. Formerly, Gold was considered as "a great remedy." Gold is a strong healing item that has been used since thousands of years ago. It would quickly supplement your lacked energy.
---
Gold Leaf has meaning and properties of blocking negative energy. Gold is a special kind of metal that never rusts. Because of that, it has been known as a metal that can prevent affected by evilness from ancient times. It will be useful as a really good amulet to ward off evil spirits.
---
Gold Leaf has meaning and properties of keeping juvenility. It is considered as an amulet that can prevent degradation of body and mind. It would let you keep having the best results all the time. Gold Leaf will be good for people who want to work their whole life.
---
Gold Leaf is a thin sheet of Gold made by hitting with a hammer. It is stretched to 0.0001 mm thick and used. Although it is very thin, you can feel the power of Gold from it. If you want to receive more power, jewelry made of Gold will be good. There are not that many, but there are some accessories that have Gold Leaf inside Quartz or glass. If you want to wear it, please look for Quartz or glass with Gold Leaf inside. If you are not thinking of wearing it, a specimen of Gold Nugget will be good to get. Gold Leaf is fairly cheap, so it will be easier for you to try the power of Gold. A bottle amulet will be pretty convenient, too. You can use it by putting on your work desk, at the entrance, or your bedroom.
---
Gold Leaf is used in various ways, such as crafts, food, watching, and amulets. Also, there are 2 types: sheets and flakes. Any kind of Gold Leaf can give you same kind of power. If you want to take in the energy of Gold in your body, edible Gold Leaf will be good. Edible Gold Leaf is harmless to your body. Please be careful not to eat the ones for crafts. Also, there is a type called Fake Gold made of brass. It is easy to get confused, so please be careful with this one, too.
---
Gold Leaf has meaning and properties of fixing things to the original state. It is an amulet to support redo or retry. It also has the power to prevent from breaking again after fixing things. For love, family, relationship, business, or daily habits, it can be used for various purposes.
---
Gold Leaf has meaning and properties of enhancing creativity. Gold is a good item to create 1 from 0. It would let you create revolutionary works or inventions. It is also useful when you want to overthrow common knowledge.

Other Gemstone Recommendation