Pink Pearl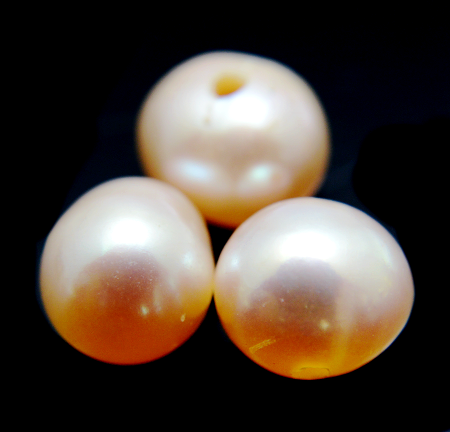 Pink Pearl has meaning and properties of enhancing its owner's charm. From the beauty of appearance to the beauty of heart, it is an amulet to improve charm comprehensively. It can be used in a wide range of usage from increasing love luck to gaining more fans in business. It would give you your original attractiveness. You can also have pleasure to be loved by someone.
---
Pink Pearl has meaning and properties of enhancing mental power. This gemstone can let you gain the strength of mind that won't get weak by negative energy. It will be useful when you want indomitable will. It is a good gemstone to achieve your dreams or goals until the end.
---
Pink Pearl has meaning and properties of leading your life to prosperity. Pearl has been considered as a symbol of good luck or wealth from ancient times. It is a great amulet that gives you success and happiness. It will be useful to make your life fruitful.
---
There are 2 types of Pink Pearl: natural colored ones and dyed-color ones. Pink Pearl of natural color is more popular. Please check the type of color carefully before you buy it.
There are many kinds of pink available.
Orange Pink Pearl
Pastel Pink Pearl
Salmon Pink Pearl
Silver Pink Pearl
Gold Pink Pearl
Rose Pink Pearl
And other colors, too.
You can have the same meanings and properties from any color; they only have different mood of color. Please choose your favorite pink color.
---
The trading volume of Pink Pearl is fairly moderate. If you look in a shop that is good at Pearl, you can find it pretty easily. There is a kind that is called Conch Pearl which is difficult to get. It is one of the most valuable Pink Pearl that is made inside pink shells in the Caribbean Sea (Strombus Gigas). If you want to buy Conch Pearl, you will need big budgets. When you want a rare Pink Pearl, please look for Conch Pearl.
---
Pink Pearl is usually made into accessories. Necklaces, earrings, and bracelets are popular. A common Pink Pearl is sold in a fairly reasonable price. It is popular because it is pretty easy to buy.
---
Pink Pearl has meaning and properties of warding off evil spirits. This gemstone can clean all the negative energy that can be an obstruction of good luck. It is good to use when you want to get out from a slump of luck. It will be useful to get back the flow of good luck.
---
Pink Pearl has meaning and properties of enhancing inspiration. This gemstone is useful to create new things. It would give you power in the area of creation, planning, or invention. It is also good to use when you want to get out from a mannerism or a slump.
Chakra Chart of Pink Pearl
9th Heaven Chakra
[God]

8th Air Chakra
[Cloud]

7th Crown Chakra
[Soul]

6th Third Eye Chakra
[Wisdom]

5th Throat Chakra
[Voice]

4th Heart Chakra
[Love]

3rd Solar Plexus Chakra
[Light]

2nd Sacral Chakra
[Guts]

Pink Pearl
[Beauty] attractiveness

0th Earth Chakra
[Person]
Author Hayasaka Yoshino

Hayasaka Yoshino is a stone healer that usually works in Tokyo area, Japan. Yoshino is also famous as a fortune teller and seen over 10,000 people. "Fortune-telling counseling", which finds out the best gemstone for the client, received a high reputation. Representative director of LWE Co., Ltd.
Other Gemstone Recommendation