Gold Pearl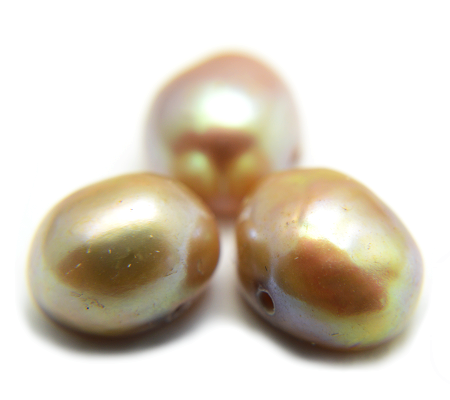 Gold Pearl has meaning and properties of getting back composure in your mind. This gemstone can be used to relieve the tension in your mind. It is useful when you want a peaceful situation. It is also good to use when you want to avoid making bad decisions or taking bad actions.
---
Gold Pearl has meaning and properties of clearing haze in your mind. It would get you away from things can be the cause of negative energy such as anger, jealousy, laziness, deceit, or sorrow. This gemstone will help you keep a pure state. It is good to use when you want to keep high morality.
---
Gold Pearl has meaning and properties of improving family luck. This gemstone can support all sorts of wishes related to family such as happy marriage, blessed with children, or safety of your family. Gold Pearl would also give you wisdom to protect your family. You can use it to pray for your family's peace and prosperity.
---
Gold Pearl has 2 types: natural colored ones and dyed ones. The price of natural colored ones is higher than dyed ones. Expensive natural colored Gold Pearl usually has a certificate together. There are many stores that would get you a certificate separately even if it originally doesn't have a certificate. If you need a natural colored one, it is recommended to buy one with a certificate. If you want to use it casually, dyed ones will be good because they are sold in reasonable prices.
---
Gold Pearl is rare in the market. It will be a little difficult to find one. Most of the Pearls have white color. In common jewelry shops, they usually only have White Pearl. Pearl with a special color are available in specialty shops of Pearl. Gold Pearl is good to buy when you want a unique Pearl.
---
Gold Pearl is made into necklaces, earrings, or bracelets. Necklaces are the most popular. Please choose the design you like to wear. Gold Pearl has its original elegance and luxurious feel.
---
Gold Pearl has meaning and properties of making your efforts get paid off. This gemstone can turn your small efforts into big value. It is good to use when you have a goal that you want to achieve. It also has the power to increase your self-confidence by achieving your goals.
---
Gold Pearl has meaning and properties of enhancing its owner's charm. This gemstone can brush up your strength to the maximum. It would let you use your strong points thoroughly. It is also good to use when you want to change your plain impression. This gemstone can clear bad effects by being inconspicuous. It will be a good one to have when you want to have more good relationships or want to get a promotion. It is also a useful gemstone to gain more fans or customers.
Chakra Chart of Gold Pearl
9th Heaven Chakra
[God]

8th Air Chakra
[Cloud]

7th Crown Chakra
[Soul]

6th Third Eye Chakra
[Wisdom]

5th Throat Chakra
[Voice]

4th Heart Chakra
[Love]

Gold Pearl
[Light] Productivity

2nd Sacral Chakra
[Guts]

1st Root Chakra
[Life]

0th Earth Chakra
[Person]
Author Hayasaka Yoshino

Hayasaka Yoshino is a stone healer that usually works in Tokyo area, Japan. Yoshino is also famous as a fortune teller and seen over 10,000 people. "Fortune-telling counseling", which finds out the best gemstone for the client, received a high reputation. Representative director of LWE Co., Ltd.
Other Gemstone Recommendation