Green Pearl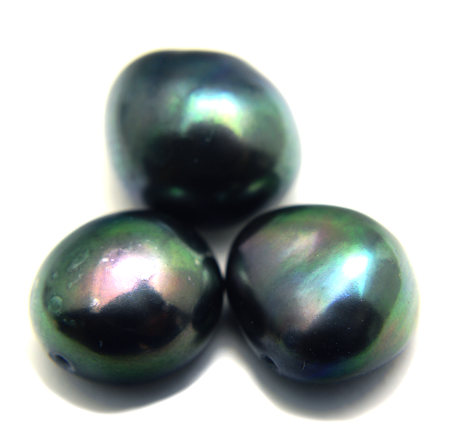 Green Pearl has a meaning and properties to enhance love luck. It is a gemstone to deepen the relationship with you and someone in your mind. It will realize to love each other. It is also recommended when you want to build a strong trustworthy relationship.
---
Green Pearl has a meaning and properties to clean the inside of the mind. It is a gemstone to cleanse negative feelings. It prevents you from accumulating potential stress. It is also useful when you want to get out of a confused state.
---
Green Pearl has a meaning and properties to enhance future prediction ability. It is a gemstone to prevent you from being caught by things no further than your nose. It makes you find out the way to win big finally. You will grab necessary opportunities without missing. It also has the power to predict and avoid hidden danger and traps.
---
Pearl is rich in color variations. In general white Pearl is widely known. Many people do not know that there is Pearl other than white. Other than white, "pink", "black" and "yellow" are popular. Green Pearl is rare and is not well known. It is loved by some Pearl collectors. It is recommended to those are looking for rare Pearls.
---
Green Pearl has "natural color type" and "dyeing type". Since the value changes greatly, please check well which type it is in advance. Natural Green Pearl is very rare. When certainly you want a natural color type, please get Green Pearl with a distinction certificate. The distribution volume of dyeing type Green Pearl is also small. It is available at shops that are strong in Pearl.
---
Green Pearl is processed into accessories and used. Necklace type is the most popular. There is also a small amount of piercing type. When processed into accessories, it is convenient to capture the power of Green Pearl efficiently.
---
Green Pearl has a meaning and properties to strengthen the owner's will. It is a gemstone to help consolidate "direction" and "target" in the future. It prevents the power from being scattered finely. It makes you focus towards what you should do with 100% of the power. Green Pearl is an amulet to eliminate indecision. It will form you a habit of acting based on your ideas.
---
Green Pearl has a meaning and properties to promote ability growth. It is a gemstone to incorporate new information and technology flexibly. It will reduce the risk of falling into "stagnation" or "slower growth". It is useful even when you want to maintain a wide field of view.
Chakra Chart of Green Pearl
9th Heaven Chakra
[God]

8th Air Chakra
[Cloud]

7th Crown Chakra
[Soul]

6th Third Eye Chakra
[Wisdom]

5th Throat Chakra
[Voice]

Green Pearl
[Love] Tolerance

3rd Solar Plexus Chakra
[Light]

2nd Sacral Chakra
[Guts]

1st Root Chakra
[Life]

0th Earth Chakra
[Person]
Author Hayasaka Yoshino

Hayasaka Yoshino is a stone healer that usually works in Tokyo area, Japan. Yoshino is also famous as a fortune teller and seen over 10,000 people. "Fortune-telling counseling", which finds out the best gemstone for the client, received a high reputation. Representative director of LWE Co., Ltd.
Other Gemstone Recommendation