Keshi Pearl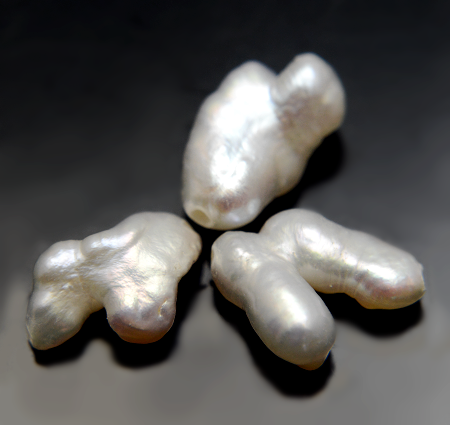 Keshi Pearl has the meaning and properties to strengthen the relationship of trust. It is effective for various parties from marriage partner to business partner. You will get comfort like you can believe each other. It is also used when you want to avoid antagonism and betrayal.
---
Keshi Pearl has the meaning and properties to increase the popularity of the owner. It is a talisman to acquire strong fans. It deeply attracts the heart of the person you met. It is effective when the number of fans tends to be directly linked to income. It will demonstrate its strength in fields such as "hospitality", "service", "sales", "expression" and "art".
---
Keshi Pearl has the meaning and properties of getting rid of the clouds of the mind. It is popular as "an amulet to regain purity". Cheerfulness like boys and girls will be regained. It changes "boring daily life" to "enjoyable daily life". It's adequate when you want to raise daily happiness and fulfillment.
---
Aquacultured Pearl is produced by placing balls (nuclei) made from shells etc. in a mother shell. There are no core parts in Keshi Pearl. It is sold separately from general Pearl. It is also characterized by its irregular shape. There also exist high quality types with well-formed shapes.
---
There are two types of Keshi Pearl, a cultured type and a natural type. However, it is difficult to determine it. Most of distributed Keshi Pearl is a cultured type. The name comes from the plant's "Keshi" (poppy). As it was as small as poppy's fruit, it was named "Keshi Pearl". Although Keshi means poppy in Japanese, it is written as Keshi Pearl even outside Japan.
---
There is not much distribution of Keshi Pearl. Distorted Keshi Pearl is unique and it is difficult to design. The distribution amount inevitably decreases than the general round Pearls. It is sold by being processed into 'bracelet', 'necklace', 'pierces', etc. If you use it well, it becomes only one accessory in the world. When you get tired of ordinary Pearls, please try Keshi Pearl accessories.
---
Keshi Pearl has the meaning and properties to enhance the accuracy of future prediction. It is an amulet to lead to "the right way to go". It gets you through the right path by avoiding the troublesome selections. It will protect you from extra damage.
---
Keshi Pearl has the meaning and properties to enhance the challenge. It is an amulet to advance to the undeveloped area with courage. It will win you enough the benefits gained in the new territory. It will strongly support "starting a business", "development", "planning", "research" and "travel", and so on.
Chakra Chart of Keshi Pearl
White Keshi Pearl
[God] Creativity

Gray Keshi Pearl
[Cloud] Application

Purple Keshi Pearl
[Soul] Intuition

Blue Keshi Pearl
[Wisdom] Thinking Ability

5th Throat Chakra
[Voice]

Green Keshi Pearl
[Love] Tolerance

Golden Keshi Pearl
[Light] Productivity

Orange Keshi Pearl
[Guts] Persistence

Pink Keshi Pearl
[Beauty] attractiveness

Black Keshi Pearl
[Person] Will Power
Author Hayasaka Yoshino

Hayasaka Yoshino is a stone healer that usually works in Tokyo area, Japan. Yoshino is also famous as a fortune teller and seen over 10,000 people. "Fortune-telling counseling", which finds out the best gemstone for the client, received a high reputation. Representative director of LWE Co., Ltd.
Other Gemstone Recommendation