Water Opal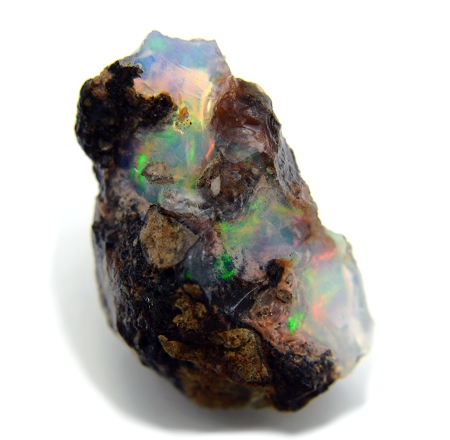 Water Opal has the meaning and properties to increase the energy of love. It is a helpful gemstone to fulfill good matches. It supports to build a relationship full of consideration and gentleness. Water Opal is also recommended when you seek parties without any interests. It is also known as a symbol of "pure love".
---
Water Opal has the meaning and properties to clear cloudy thinking. You will get back the pure and straight idea. It is a gemstone which removes unnecessary evil energies. Also it's useful when you want to convert negative thinking into positive thinking.
---
Water Opal has the meaning and properties to restart life. It is a gemstone to symbolize "reincarnation". It will allow you to explore a different life from the past. Please try the power of Water Opal when there is insufficient stimulation in your life. It will help to raise daily satisfaction.
---
Water Opal is a colorless Opal with high transparency. It looks like a water droplet fossilized as it is. The high quality type shines internally in rainbow color and it is very beautiful. Milky white translucent type is classified as "White Opal".
---
Mexican Water Opal is the most famous. Water Opal made in Mexico is valuable especially because of the very small distribution volume. If you cannot find it, please find Opal of other origin. Also beautiful transparent Opals are produced from Ethiopia and others.
---
Artificial Water Opal also exists. If it is sold cheaply, there is a possibility of an artificial type. Please obtain Opal after checking well if it's natural or artificial type. High quality natural Water Opal is very expensive.
---
Water Opal is processed into accessories and used. Necklaces and pierced earrings are popular. There are very few dealers and this is an Opal for advanced users. If you need it, please look for a gemstone shop that is strong in Opal.
---
Water Opal has the meaning and properties to see correct answers and incorrect answers. It is a gemstone not to make you failed with important selection. It makes you proceed with confidence to the lighting path. It will help you to grab more success and good luck.
---
Water Opal has the meaning and properties to make impossible possible. The beautiful glow that lives inside is a symbol of "miracle" and "hope". The shining of seven colors will produce seven kinds of miracles. The more hopeless the situation is, the more powerfully it will work. It is also recommended when you want to overturn your common sense.
Chakra Chart of Water Opal
Water Opal
[God] Creativity

8th Air Chakra
[Cloud]

7th Crown Chakra
[Soul]

6th Third Eye Chakra
[Wisdom]

5th Throat Chakra
[Voice]

4th Heart Chakra
[Love]

3rd Solar Plexus Chakra
[Light]

2nd Sacral Chakra
[Guts]

1st Root Chakra
[Life]

0th Earth Chakra
[Person]
Author Hayasaka Yoshino

Hayasaka Yoshino is a stone healer that usually works in Tokyo area, Japan. Yoshino is also famous as a fortune teller and seen over 10,000 people. "Fortune-telling counseling", which finds out the best gemstone for the client, received a high reputation. Representative director of LWE Co., Ltd.
Other Gemstone Recommendation